UEB, 24 October 2016
24 October 2016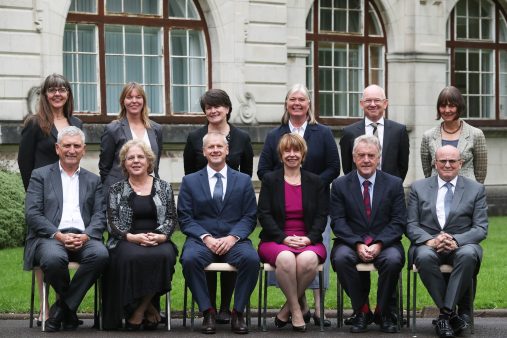 UEB received a paper written by Professor Graeme Reid, University College London, on Cardiff University's industrial income. The report had been commissioned on the University's industry income following two years of poor return, however, it was noted that this year Cardiff's industrial income had risen by 10.6%.  Professor Reid had made a number of recommendations which were discussed.  It was agreed the report will now be presented to Council on 28 November.
It was noted that a Cardiff Futures team had produced a handbook for new international staff and Professor Boyne and Professor Jones had spoken at its recent launch.
It was noted that Professor Judith Hall had received a MRC grant of £150K for the Phoenix Project.
UEB received the latest version of the next iteration of the strategy, The Way Forward 2018-2023. Some minor revisions were made to the text and 10 top level KPIs were agreed.  This draft would now go to Policy and Resources and Council in November to comment.  It was agreed that the first drafts of the sub strategies would be reviewed at UEB in January 2017.
UEB received a paper on the Rolling REF. The paper was approved and will be presented to Senate and uploaded onto the intranet.
UEB received the University's 2016 Strategic Planning and Engagement Document. It was agreed to recommend to Policy and Resources Committee and Council submission of the annual update on progress to HEFCW.
UEB received and approved the Fee Plan Annual Monitoring Statement for submission to HEFCW.
UEB received a paper on the International Scholarship Fund. It was agreed to retain the original decision taken by UEB on 13 June 2016 whereby International Excellence Scholarships should be targeted at specific Schools programmes with the offer of a scholarship to be made at the point of offer.
UEB received a paper outlining the proposed changes and improvements to the University's website. It was agreed to endorse the direction of travel for development of the University website homepage.
UEB received the Welsh Government Draft Budget 2017/18 for information.
UEB received the University financial report up to September 2016 for information.
UEB received the following regular reports
Deputy Vice-Chancellor monthly report
Innovation Buildings and Public Realm update
Read about our strategic direction and focus on research and innovation, education, international and engagement.