21st Century Technologies: a Catapult for Compound Semiconductors
21 January 2016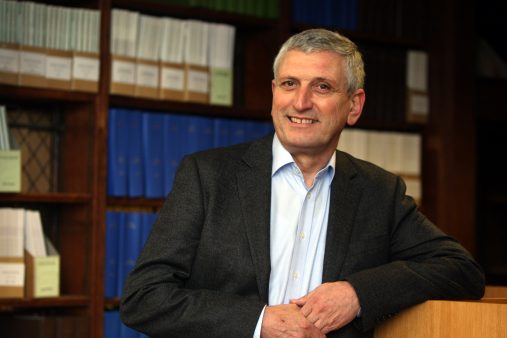 Despite recent talk of the year's gloomiest 'Blue Monday,' January brought some potentially outstanding news for Cardiff, Wales and the wider UK economy.
Following a visit to the University, Chancellor George Osborne unveiled the £50m Catapult for Compound Semiconductor Applications to be based in South Wales. Whilst the announcement was anticipated, the confirmation was no less exciting.  
Providing businesses with access to critical assets, research and expertise, Catapults aim to bring researchers and business together to transform the UK's innovation landscape and drive economic growth.
In a UK context, the CS Catapult was born out of innovation and working closely with industry in the region. The city is already home to global CS specialists IQE. The company has been working for decades with physicists and engineers from the College of Physical Sciences and Engineering.
This strong partnership is the bedrock beneath the University's new research Institute for Compound Semiconductors, funded by Welsh and UK Governments, which is due to open on the Innovation Campus in 2018. 
In turn, the relationship drove the decision to set up the Compound Semiconductor Centre, a for-profit business partnership between IQE and the University.
Working together, the Institute and Centre will take ideas from the laboratory bench to the factory floor by converting scientific discovery into full-scale industrial production that brings 21st Century CS products to market. In effect, the Catapult represents a three-way partnership between academia, industry and government.
It spans an array of disciplines within the College of Physical Science and Engineering, embracing everything from fundamental science through to the design engineering that shapes end products.
Researchers will find outstanding opportunities to develop world-leading work, and students will have a chance to taste science in action across a really wide spectrum. Not only that, the Catapult will create a gateway for students – through work placements and studentships – into the world of business.
Funded and run by Innovate UK, the Catapult promises opportunities, rewards and a stronger economy. As Welsh Secretary Stephen Crabb noted on his recent University tour with George Osborne, it has the power to put Wales at the vanguard of the high-tech revolution.
Read about our strategic direction and focus on research and innovation, education, international and engagement.