UEB 20 April 2015
20 April 2015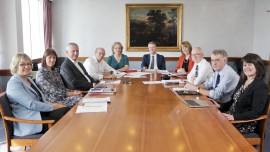 UEB received an oral update on the 'size and shape' work that Planning has been doing during the year. UEB will received a summary of numbers of students by College and type (UG, PGT, PGR and Home/EU and International) together with student:staff ratios at a later meeting.
UEB received a paper from the Director of Communications and Marketing updating on the work being undertaken around the University brand guidelines.  The importance of ensuring the alumni feel that they belong to the current Cardiff University was noted and this would be a topic for the autumn edition of the alumni magazine.
UEB received an update on the Biometric Residency Permits (BRP) that the Home Office had introduced for 2015/16 for all international students.
UEB received the following regular reports
College of Arts, Humanities & Social Sciences Monthly Report.  The reported noted that the College Board away day reviewed the College's operational plan for 2015/16. The final draft will now be discussed at the Professional Services Leadership Team away day, to ensure professional services are joined up in supporting the plan.  There was an update on College applications for UG, PGT and PGR.  There was also an update on progress made by the Creative Economy project that had been established in July 2014 for three years as part of the University's Innovation System. Its primary aim is to work with others to make Cardiff a capital of creativity.
Monthly Activity Report: Academic Standards & Student Experience. The report updated on the Centre for Student Life and progress on the Education Change Portfolio. The Town Hall Meetings advertised in Blas and scheduled for the end of April have already got 600 people registered.
Chief Operating Officer Monthly Report. The report included updates from each of the corporate Professional Services Departments. The report also updated on activity and meetings attended by the Chief Operation Officer.
Read about our strategic direction and focus on research and innovation, education, international and engagement.