UEB 15 April 2015
15 April 2015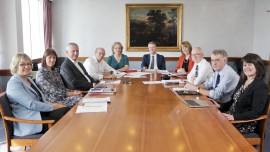 It was noted that that the Vice-Chancellor had, earlier this week, led a UUK delegation to Brussels and had met the Director General for Communication Networks, Content & Technology who had encouraged further applications to be put forward under the ECSEL programme.
It was noted that the Welsh Government had published the Health Professional Investment Review report and the College of Biomedical and Life Sciences was collating feedback to a response which would be received by UEB.
UEB received a paper proposing an extension to the Cardiff University Research Opportunity Programme (CUROP). UEB agreed to approve the proposal to extend the CUROP scheme in a phased manner over the five years to 2019/20 subject to annual and mid-point evaluations of its ongoing strategic alignment.
UEB received the following regular reports
Deputy Vice-Chancellor Monthly Report. The report updated on the Deputy Vice-Chancellor's monthly activity including work around Equality and Diversity, GW4 Away Day, hosting a visit by two Malaysian vice-chancellors and attending an Open Day teachers' lunch.
Report on Engagement Activities. The report updated on each of the flagship engagement projects and on engagement activities with the Welsh and UK government.  The report also updated on planned events and initiatives including Eisteddfod and the Schools Partnership Project.
Report on International Activities. The report update on activity with KU Leuven, China and India developments and a Russell Group visit by the PVC International and Europe to Brussels.
Director of Communications and Marketing Monthly Report. The noted that staff Blas now goes out weekly. The Internal Communications Team has started a major review of internal communications across the University.  The report also updated on media relations and campaigns as well as public affairs developments.
Estates Projects Update.
Read about our strategic direction and focus on research and innovation, education, international and engagement.