Funding the response to COVID-19: looking ahead to an unprecedented Supplementary Budget
26 May 2020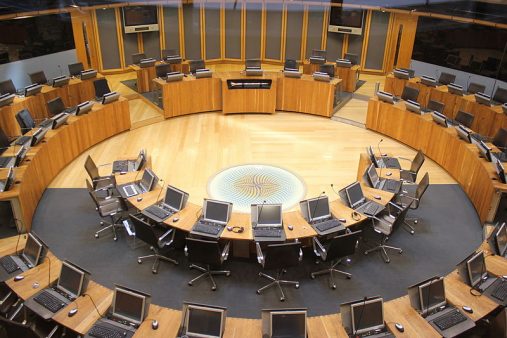 Welsh Government Supplementary Budgets do not usually garner much attention. Given the momentous events since the Welsh Government published its Final Budget allocations in March, tomorrow's supplementary budget will be different. It may perhaps be the most significant budget 'event' in the history of devolution.
The scale of additional funding to be allocated in this supplementary budget is simply unprecedented. The average additional allocations to Welsh Government departments made at 1st supplementary budgets over the course of this Welsh parliamentary term was £136 million. Tomorrow's increases will be over seventeen times that amount, with arguably more to come at a later date. As a rough comparison, the Welsh budget will have increased by more in three months than it did during its first three years under the New Labour government.
This blog post outlines the UK government's fiscal response, tracks the additional resources at the disposal of the Welsh Government, and analyses what we can expect from tomorrow's supplementary budget.
UK government finances
The Office of National Statistics' release of data on the public sector finances for the month of April 2020 revealed the huge impact of the COVID-19 crisis on government revenues and spending.[1] Reduced revenues (particularly from VAT) and increased public sector spending (particularly on the government's furlough scheme) meant public sector borrowing surged to record levels.
The UK public sector borrowed a similar amount in one month to what was forecast by the Office for Budget Responsibility (OBR) for the entirety of 2020-21 just two months ago at the March 2020 Budget. The OBR have since published a 'coronavirus reference scenario', projecting borrowing of £298 billion for 2020-21, which seems in line with the published outturn figures.[2]
The latest projected cost of the UK government's direct fiscal policy response amounts to £123.2 billion.[3] The impact on the Welsh Government budget comes from the £15 billion increase in spending on public services and a £28 billion package of support for businesses through business rates reliefs and grants.
By far the largest cost for the UK government is in the form of employment support including the coronavirus job retention scheme and the self-employment income support scheme, which have a combined net cost of around £61 billion.
Funding the Welsh Government fiscal response
The UK government's Budget 2020 had already resulted in £364 million of additional funding for the Welsh Government (mainly for capital spending). Over subsequent months, this has been dwarfed by additional consequentials resulting from a stream of coronavirus-related funding announcements made by the UK government in England, summarised in Figure 1. The amount of available funding has grown substantially since we published our initial update on the Welsh Government budget last month (April 9).[4]
Figure 1: Additional funding available for the Welsh Government to fund its fiscal response to covid-19[5]
Consequentials from Budget 2020 (11 Mar)
£ million
Total
364
Coronavirus response funding for the Welsh Government
£ million
Budget measures (11 Mar)
LA hardship fund
29
Business rates reliefs
65
Business support grants
120
Response fund (11 Mar)
250
Business package (17 Mar)
1,180
Charities (8 Apr)
20
National Lottery Community Fund (8 Apr)
18
Increase to response fund (13 Apr)
355
Local government funding (18 Apr)
95
Care homes in England (15 May)
35
Transport for London (19 May)
65
Total
2,232
Reprioritised funding from own budget and EU funding
£ million
Total
500
Coronavirus-related funding from the UK government now amounts to over £2.2 billion, the largest part triggered by business rates reliefs and grants. On top of Budget 2020 consequentials, it means total additional funding available for the Welsh Government to allocate at this supplementary budget is approximately £2.6 billion (£2.3 billion of which is revenue funding for day-to-day spending).
In addition, the Welsh Government announced it had reprioritised and repurposed £0.5 billion from within its own budget and in EU funding to fund its fiscal response.
This means that available funding for day-to-day spending will be 15% higher than what was set out at the Final Budget 2020.[6] To put this increase in context, Figure 2 plots the path of the Welsh Government budget for day-to-day spending since 2010-11 in real terms. After gradually growing over recent years, additional coronavirus response funding will mean spending in 2020-21 will be 12% higher than 2010-11 levels.
Figure 2: Welsh Government budget for day-to-day spending, 2010-11 to 2020-21 (2019-20 prices)[7]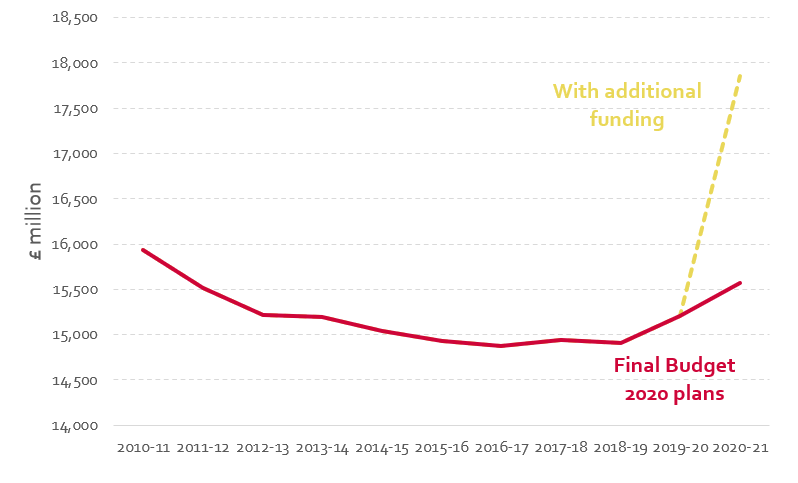 Ironically, funding for day-to-day spending in the Welsh budget will be similar in 2020-21 to what it would have been in 2022-23 under the spending plans outlined in Labour's General Election 2019 manifesto.[8]
Welsh Government allocations
The Welsh Government's fiscal response to date includes a £1.3 billion package of non-domestic rates reliefs and grants, largely mirroring policies implemented in England.[9] It also includes a £1.1 billion package to support the economy and public services.
Tomorrow's supplementary budget will provide a further breakdown of the fiscal response, though most of the economy and public services package has already been allocated to various priorities. A significant portion will go towards funding the health and care response to covid-19, with the health and social care budget set to increase by £0.5 billion. This increase will include funding for the £500 extra payment for care staff in Wales, worth around £32 million.
Another large part of the response has been allocated to the Economic Crisis Fund, comprised of £400 million in grants and £100 million of loans for businesses.
Around £114 million has been allocated to support local authorities' budgets, including £40 million for adult social care, £40 million for additional free school meal provision and £10 million for homelessness services.
While this extra support for local government may meet additional demand pressures for local authorities, another concern has been the impact on their income. Income from sales, fees and charges amount to approximately £1 billion a year for Welsh local authorities, and a high-level estimate from the WLGA suggested they would lose around £33 million of income for every month of lockdown. Local authorities will be hoping for further funding announcements to address this shortfall.
Since the Welsh Government announced its original £1.1 billion package for the economy and public services at the end of March – funded by a mixture of consequentials and repurposed spending from its own budget and EU funding – announcements by the UK government have led to £588 million of additional funding.
Tomorrow's supplementary budget may therefore provide an opportunity to increase the size of the overall Welsh Government fiscal response.
While Minister for Finance Rebecca Evans may not allocate all this additional funding tomorrow, the prolonged nature of this crisis makes it likely further funding announcements will be on their way.

---
[1] Available at: https://www.ons.gov.uk/economy/governmentpublicsectorandtaxes/publicsectorfinance/bulletins/publicsectorfinances/april2020
[2] Available at: https://obr.uk/download/coronavirus-reference-scenario-the-obrs-coronavirus-analysis/
[3] Available at: https://obr.uk/download/coronavirus-policy-monitoring-database-14-may-2020/
[4] Available at: https://www.cardiff.ac.uk/__data/assets/pdf_file/0005/2132654/COVID19_Welsh_Budget_FINAL.pdf
[5] Some figures on consequential funding estimated from available information, in the absence of HM Treasury Block Grant Transparency data.
[6] It should be noted most of this increase will go towards non-domestic rates relief and grant funding rather than on public services.
[7] For methodology, see figure 2 here: https://www.cardiff.ac.uk/__data/assets/pdf_file/0004/1788628/WFA-Spring-Budget-2020.pdf
[8] See: https://www.cardiff.ac.uk/__data/assets/pdf_file/0011/1736768/Manifesto_analysis_v3.pdf
[9] Except for the exclusion of reliefs to properties in the retail, leisure and hospitality sector valued over £500,000, releasing £117 million.
Join 35 other subscribers