Welsh Christmas Traditions
23 December 2021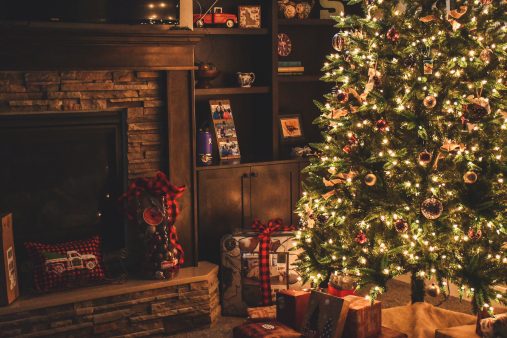 As Christmas is fast approaching, I thought it would be fun to explore the Welsh Christmas and holiday traditions. Wales celebrates the festive season like no other country.
The first tradition dates back to the 18th and 19th centuries where Welsh people would go to church at 3 am on Christmas morning. The service would consist of the churchgoers singing Welsh carols acapella. The people who would do this would also stay up all night Christmas Eve making toffee around the fireplace whilst games would be played and stories shared. Houses would be decorated with fresh holly and mistletoe before leaving for the church service. The procession to the church would often consist of people using candles to light their way. Today, some churches still perform the tradition but not in the middle of the night and not on Christmas Eve/Christmas Day.
Another tradition is a Winter swim. Porthcawl in the south of wales has been hosting a Christmas morning swim for over 50 years. Swimmers in Tenby and Pembrey take the icy plunge on Boxing Day with other locations around the country hosting the event on New Year's Day. Most of the swimmers raise money for charity, so the events are always strongly supported.
Another sporty event occurs in the Welsh Valleys town of Mountain Ash in the afternoon of New Year's Eve. Around 2,000 runners take part in the race which commemorates a legendary Welsh runner – Guto Nyth Bran – who apparently could run seven miles before his mother's kettle had finished boiling. The event begins with a church service when a wreath is laid on Bran's grave and a torch is lit. The torch is taken to the town centre where competitions are held for adults and children to celebrate the coming of the new year.
Calennig celebrations take place on New Year's Day in the South Wales Valleys and in Monmouthshire. Children, in particular, celebrated this tradition. They would recite poems and sing songs to their neighbours in exchange for bread, cheese, sweets or money. The children would carry an apple or an orange on sticks emblazoned with nuts, oats, herbs and leaves. This item was considered an emblem of good luck, to make the children's fortune come true.
People who live in the Gwaun Valley in North Pembrokeshire still celebrate the New Year of the Julian Calendar. Celebrations include farmers brewing their own beer, neighbours visiting each other, a feast and a trip to the local pub to enjoy some beverages.
There are many more Welsh Christmas and New Year traditions not listed in this blog, so do some research for yourself to find the most interesting or unique tradition.
If you celebrate, have a very Merry Christmas! And a Happy New Year to everyone.
Stay tuned for more blogs and videos.
Miah x