Places to visit and socialise outdoors in and around Cardiff
8 September 2020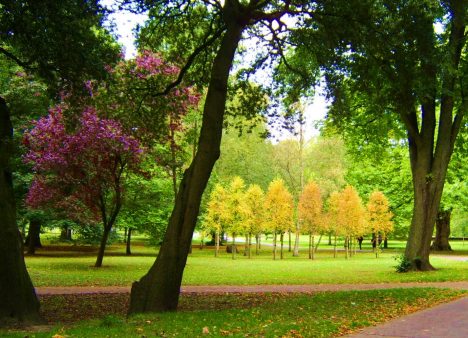 This blog aims to inform prospective students of places to visit outdoors in and around Cardiff.
Bute Park
Bute Park is in the heart of Cardiff city centre and has the beautiful Cardiff castle next door. Bute Park has so much garden space, to be able to go and play rounders with your friends, sit and have a picnic or even go on a walk, run or cycle. Bute Park is the perfect place to go to for a cheap, fun day out.
Cardiff Castle
Neighbouring Bute Park is Cardiff Castle. Cardiff Castle is a fab place to go and visit. Cardiff Castle charges to get into the grounds (You can get a castle card as a Cardiff University student, which then gives you entry to the castle for 3 years – https://www.cardiffcastle.com/castle-key/) but it is definitely worth it, especially if you like stunning views and history! Cardiff Castle is the perfect place to go to for a few hours.
Cardiff Bay
Cardiff Bay is such a lovely place to visit in the evening or in the day time. I think Cardiff Bay is a nice place to be able to go and have a stroll or go out for a meal. I have been to Cardiff Bay in the summer and they have had a summer fair with rides, live music and ice cream carts too! A fab day out in the sunshine!

Aqua Park
At Cardiff Bay, in the summer months, they have an Aqua Park on the bay! This is a blow up water park, which includes a blow up slide. This is a fun filled meet up with friends and family. Unfortunately, Aqua Park wasn't able to open this summer due to the coronavirus outbreak but is planning to open in summer 2021.
St Fagans
St Fagans isn't far away from Cardiff and is full of Welsh history! I absolutely love taking family and friends to St Fagans, it's free entry and is a brilliant few hours out! Especially if you don't know much about welsh heritage. Some of the amazing places you can visit at St Fagans include a castle, an old traditional bakery and sweet shop – A must is the fruit loaf from the old traditional bakery, this is delicious!
Barry Island
Barry Island is a train journey away from Cardiff, the trains are easy to access this making it an easy and cheap journey to make. There is so much to do in Barry Island including: the beach, mini golf, arcades, pleasure park, tourist railway and if you are a fan of Gavin and Stacey you can even go and see the house Gavin and Stacey was filmed in.
Christmas Market
The Christmas Market happens in the streets of Cardiff City Centre once a year. This is a fabulous opportunity to buy lots of handmade gifts and start stocking up on your christmas presents. On the Christmas Market website, it has been confirmed that the market will be opening this year.
Winter Wonderland
As well as having the beautiful Christmas market in the heart of Cardiff, near the main campus of Cardiff University, Cardiff have a winter wonderland. The winter wonderland is full of rides, food stalls and music! This is another fun packed day or evening and has such a good christmassy atmosphere! This is definitely worth a visit!
I hope you have found this blog helpful, especially at this time when most of our time is spent socialising outdoors. Feel free to contact me using the UniBuddy service to ask me any questions regarding the city or Cardiff University.