Going through clearing? Here's 10 reasons why you should choose Cardiff
21 August 2022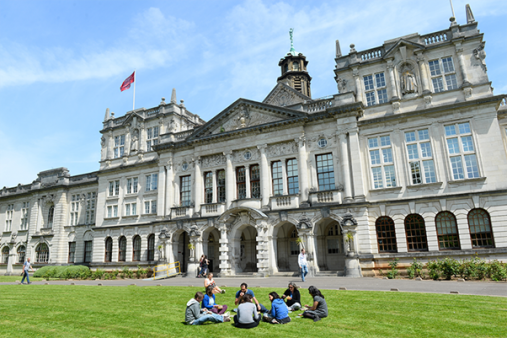 As we approach the time of the year when A level and university results begin to come through for many students in secondary and higher education, many prospective undergraduate and postgraduate students will be trawling through university websites, visiting campuses and asking their peers about their insights on the various universities they might be considering. To hear the insight of somebody that has studied here for both their undergraduate and postgraduate degrees, here are 10 of the reasons why I personally would recommend Cardiff to prospective students!
1: Cardiff as a city is just the right size for students. Being the Welsh capital, it has all of the amenities, entertainment venues and shops that you could ask for, whilst also all being within walking distance of the majority of student accommodation.
2: The scenery of the city is beautiful, hosting multiple parks, a castle dating back to the Roman invasion under Claudius, and a host of pretty little arcades that contain cafés, restaurants and specialist shops, hidden within the rows of bars and larger shops that line the pedestrian streets.
3: Cardiff University is one of the 24 members of the Russel group of universities, giving it internationally recognised status for its teaching and research. Certain courses may be more attractive at other universities, however it is always a positive to have this accreditation for your university on your CV.
4: There are a huge variety of societies available for you to join, from dance groups, to theatrical productions, to airsoft. Each subject also has dedicated societies for you to casually meet with your course mates and anyone else who's interested in your field of study. Personally, despite studying Ancient History, I joint the Maths society predominantly because they took part in a weekly pub quiz!
5: There are wide range of sporting facilities and sports clubs within and outside of the university. Our main facilities lie at the Talybont campus at the top of the student area of Cathays, hosting 3G pitches, sports halls and gyms. For those sports fans, there are also a number of world class stadiums within walking distance that host cricket, football, rugby, and occasionally within the Principality Stadium, extreme sports such as dirt bike racing.
6: The nightlife of Cardiff is likely one of the best in the country, with countless clubs and bars catering to whatever music and social scene you would like. St Mary's Street alone has around 50 clubs and bars along it.
7: The music scene in Cardiff is fantastic, having phenomenal venues for all types of music. From pop concerts at the Principality Stadium and the Motorpoint Arena, to classical concerts at St. David's Hall, to theatre productions at the Millennium Centre and a host of private theatres around the city. There is also a thriving live music scene within the bars and food places within the city centre, and a wide array of musical ensembles to get involved with within the university itself.
8: The recently constructed Centre for Student Life now hosts all of the university's student support services. These are invaluable in helping students with a variety of disabilities to progress through their university career with the support that they need to ensure that they are not unfairly disadvantaged due to disabilities they may face. The mental health support services are also a key point of call for students who may be struggling and need someone to talk to or even directly help tackle a problem they may be facing.
9: The student area of Cathays is almost entirely students, creating a friendly community for those living in student housing. It is also right next to the majority of the university's buildings and only a 5-20 minute walk from town, depending on which end of Cathays you live.
10: Cardiff is located near to a plethora of must-visit locations, whether that be a trip to the beach at Barry Island, where "Gavin and Stacy" was famously filmed, or to enjoy a mountain climb up Pen y fan, or to enjoy the beautiful view over Cardiff Bay in the evening.