Co-creating solutions for society's wicked problems.
11 July 2022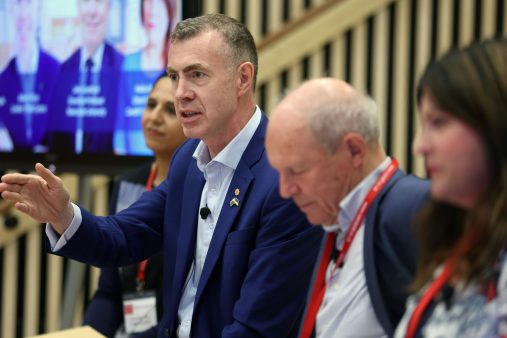 Special guests from the worlds of social science research-led innovation, politics, the third sector and government joined a recent celebration of sbarc|spark – Cardiff University's new 'superlab' for co-creating solutions for society's 'wicked' problems.
In the third of a series of blogs* from the event's four panellists, we hear from Adam Price, Leader, Plaid Cymru.
Adam played a key role in the development of the vision for sbarc|spark over the past decade. Now sbarc|spark is open, we began by asking him in an audio interview how he sees the project progressing?
"It's incredible to stand here. Ten years since we first asked the question what would a social science park look like? I think sbarc|spark is an incredible opportunity for us, not just to create change here in Wales, but to create a new platform and excitement which others already want to emulate.
sbarcIspark enables the co-creation and co-production of ideas in the public policy field, social scientists working shoulder to shoulder with private practitioners, learning together in real-time, creating a very different way of doing social science, a very different way of developing social innovation and public policy.
sbarcIspark comes at a time when we need new ways of generating ideas to solve the world's wicked problems and the fantastic opportunity that I think this building represents is for Wales to become the world's testbed for solving some of those great problems the world is facing."
Q: Is this the way you saw sbarc|spark when you originally talked about the concept all those years ago? Bringing together many disparate parts of society in a test bed facility, and coming up with new ways of working?
A: "I think one of the great things about this building is that by co-locating different disciplines, by co-locating research and practice, it has done away with the siloed culture of separate worlds, which has bedevilled us for so long.
Co-location and co-creation are written into the very fabric of this building in its design. The diverse range of people here embody that interdisciplinarity, and the sense that, through research and practitioners working together, we can generate the spark of new ideas and learn together. You need thinking and doing to be happening in the same place across different teams. This is a world first, but I'm sure the world will be watching the progress that will happen in the months and years ahead here in sbarcIspark."
Q: sbarcIspark is attractive to social sciences researchers, civil servants and people who initiate projects that change society.  But it also has a role to play in supporting businesses, SMEs, spinouts, community groups and startups. Is there a danger that it could be trying to please too many groups?
"Social science research is such an intrinsic part of almost everything that we do. It's at the heart of government, the heart of public services, and vital for the economy.
Social science research is a vast reservoir of knowledge about how to make things work more effectively. We tend to think of innovation in a science and technology sense but we are increasingly aware that innovation is much broader than that, ecompassing intangible ideas, social innovation and public service innovation. The knowledge that social science research collects is a key ingredient in the process of social and public service innovation, but also economic innovation as well.
Operating collectively is something we're very good at in Wales. Small nations are great places to create innovation in general: big enough for you to do something significant, but small enough for you to capture the learning. That's what this building is, really: a great, wonderful node in that network of a learning nation where we can build around social sciences but also connect virtually everything that we're all working on in our different sectors of society.
There's a there's a vast landscape of opportunity for this building and the people working in it, to make a difference on the ground in communities throughout the year and in the decades to come."
* Further blogs featuring Professor Julia Black, Strategic Director of Innovation, LSE, President, British Academy and Kellie Beirne, Director of Cardiff Capital Region will follow in the weeks ahead.