Companies pay the price for remaining in Russia
5 April 2022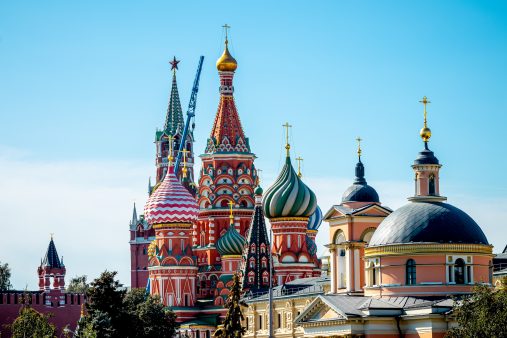 In the early hours of Thursday, 24 February 2022, Russia began its invasion of Ukraine. Against this backdrop, many international businesses operating in the Russian market chose to cut ties and halt their operations for the foreseeable future. Dr Onur Kemal Tosun from Cardiff Business School and Professor Arman Eshraghi from the Centre for Innovation Policy Research (CIPR), based in SPARK – the world's first Social Science Research Park, as well as Cardiff Business School, have been investigating the reaction of financial markets to companies who ignored the pressure to leave and continued operating in the first two weeks of the war.  
The Russian invasion of Ukraine led to unprecedented sanctions with wide-ranging implications across geopolitical, military, and economic spheres. The increasing difficulty of banking transactions, souring public sentiment and financial penalties have driven many US companies to see no other option but to temporarily withdraw. Major western brands such as Coca-Cola, McDonalds and Starbucks were forced to announce the suspension of their business operations in Russia following social media campaigns and threats of consumer boycotts.
Despite such pressures, several US firms have chosen to remain, many of which are household names including Mondelez, the multinational confectioner and owner of Cadbury's, Burger King and the international hotelier Marriot. Our forthcoming paper focuses on these firms and investigates the reaction of financial markets to associated corporate announcements.
Our study matched a portfolio of 28 Remainer firms, from 12 distinct industries, individually to respective Leaver firms in the same SIC industry code. We chose to focus our analysis around two major dates for corporate disclosures: 28 February and 3 March. These dates are significant as certain firms were highlighted for the actions they had taken against Russia, whilst others were criticized in numerous media channels for remaining silent.
Our analysis provides an overall picture of Remainers and their stock performance in days leading up to and following the invasion and shows a remarkable fall in portfolio returns on 28 February and 3 March, supporting the impact of coinciding news announcements in media regarding Remainers and Leavers.
The study provides evidence of a collective market reaction to news of firms continuing to operate in a controversial market. We find that the portfolio of Remainers underperforms the leavers and the market benchmark, which is consistent with prior literature on the negative impact of military conflicts.
We also found a statistically and economically significant market penalty was imposed by investors on the Remainers, which may be attributed to the negative sentiment related to firms that have kept their business ties with Russia following the invasion. Additionally, the findings provide evidence of higher trading volume due to selling pressure on Remainers.
Overall, firms that have remained operating in Russia despite the invasion, sanctions and souring public sentiment, have done so to the detriment of their market performance. The long-term persistence of this detriment in the weeks and months following the invasion will need to be further studied.
The Centre for Innovation Policy Research (CIPR) is based in SPARK – the world's first Social Science Research Park. It seeks to develop an evidence-based understanding of the development, delivery and outcomes of innovation policy, broadly drawn but focused on place-based activity.
sbarc|spark opened on St David's Day (1 March). For more information on working with us, email SPARK@cardiff.ac.uk