sbarc|spark 'will support innovation and job security'
29 March 2022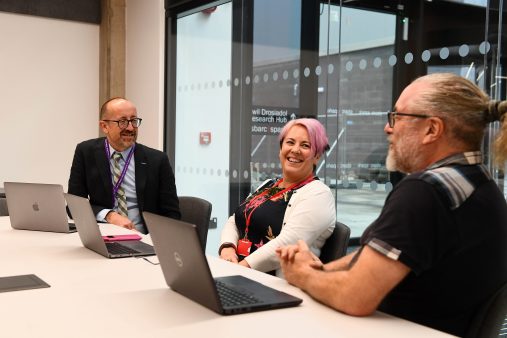 sbarc|spark has a key role to play in colocating researchers under one roof to generate new ideas and fresh avenues of research, says Professor Chris Taylor, Director of SPARK – the Social Science Research Park.
In an article for Times Higher Education, Professor Taylor said that despite the advance of online collaboration, and the rise of remote working, the need to bring social science researchers together in what's been described as 'society's superlab' remains vital for post-pandemic recovery.
"Research can be done online – and researchers had some success in the pandemic – but you do not get the same creativity and innovation," explained Professor Taylor.
"There is pretty strong evidence that, for the social sciences, developing new ideas requires a degree of communication that you don't get with online alone."
He pointed to a sharp fall in grant applications in his discipline during the pandemic, with bids to the Economic and Social Research Council falling by almost 20 per cent in 2020-21, noting: "The bids have just not been forthcoming."
"Hybrid working means companies don't need so much space, so some companies are looking to downsize from large premises and want to get a better quality environment linked to the university," said Professor Taylor, whose centre will eventually house up to 800 people.
Consolidating research centres focused on children and young people, civil society, crime and security may also improve Cardiff's chances of winning more research funding, which would help it retain researchers on longer term contracts, added Professor Taylor.
"In the medical sciences you might have a lab running for decades – for a social sciences lab to run for five years is almost unheard of," said Professor Taylor. "If we can put some groups together, we can get some significant funding at scale; we can use that to employ staff on longer term contracts," he said, adding: "At the moment, it's hard to invest in researchers and, for them, to invest in us, but if we change that, then we can begin to retain some really high-quality people."
While the financial returns from social-science-based companies or research are not likely to be in the same league as those from the life, medical or computer sciences, Cardiff's investment will pay off.
"We are fairly confident that we can bring together research revenues and companies to create a really vibrant research environment," he said.
The University has noted four new tenant moves over the past month as thinktanks and research-focused companies have moved into sbarc|spark: Nesta, the Institute of Welsh Affairs, Bipsync and RedKnight.
Craig Marvelley VP of engineering, Bipsync, said: "It's an amazing opportunity for us. The business we have is founded on innovative approaches and ideas. I think being in a space like this, where people come up with fresh ideas and collaborate, will inspire us to do the same thing. We'll actually be able to find like-minded people to get involved with and to help us come up with solutions that are going to really empower our software and our clients workflows."
Heather Perkins, Bipsync's People Ops Associate, agreed: "We have had a really warm welcome to sbarc|spark from Cardiff University. So far we're finding our team are coming in a lot more often, and that's because it's a really pleasant place to be. I think going forward we're really looking forward to interacting with more of the tenants as well as the University teams."
For more information about working in sbarc|spark, email Spark@cardiff.ac.uk