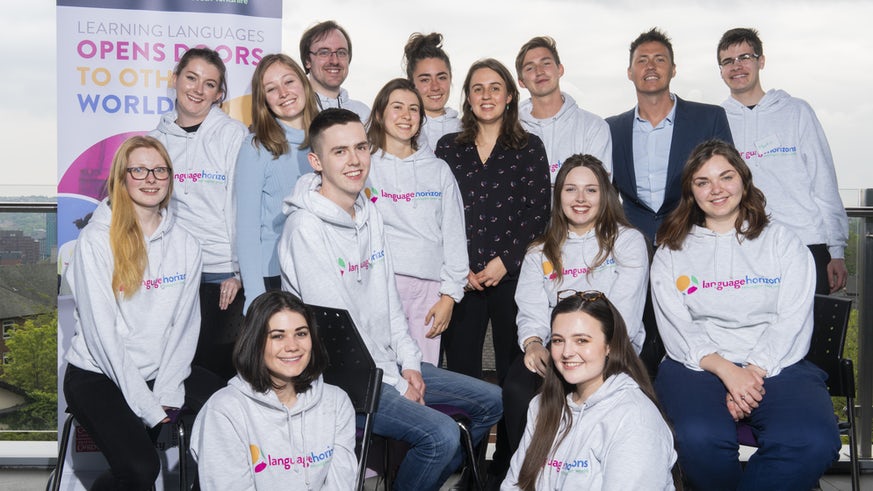 The MFL Student Mentoring Project began in 2015, funded by Welsh Government. It was conceived as a response to the steep decline in the number of young people opting to study a Modern Foreign Language at GSCE Level. It brought together staff and students at Aberystwyth, Bangor, Cardiff and Swansea Universities to try to arrest and reverse the national decline.
Now in its sixth year, the project has worked with 100 of the 203 schools in Wales. The project delivers face-to-face mentoring in secondary schools to support the Welsh Government's 'Global Futures' (2015-2020) strategy for modern language. It works with pupils in Years 8 and 9 who have indicated in a pre-mentoring survey that they are unlikely or not intending to select a language for GCSE. They work with trained university students, with a love for language, who mentor them about languages before they make their GCSE choices. Following a six-week cycles, the pupils mentored some to an Award and Recognition ceremony at the university mentor's home university.
The whole project is rooted in exploring a pupil's place in a globalising world and introducing them to the professional and interpersonal benefits of learning languages. Over the last 6 years, the project has worked with over 4000 pupils across Wales, in large cities and rural locations in English and Welsh-medium schools.
A digital version of the MFL Student Mentoring Project was developed in 2017-18, creating a blended face-to-face and online languages experience. This enabled the project to work with schools that were distant from the four hub universities. Digi-Languages was particularly successful in engaging pupils with languages from isolated or economically disadvantaged areas. More than nine out of ten pupils rated their experience in the Digi-Languages project as 'Excellent' (49%) or 'Good' (43%). Over half (58%) said it had changed the way they think about languages in relation to their futures and another third thought that perhaps it had.
This project 'made in Wales' sparked interest from the Department for Education in England who  funded Language Horizons, an entirely blended approach to raising motivation for languages learning in East Yorkshire and the West Midlands This pivot to digital learning allowed the project to develop scale and reach, developing a collaboration with the Regional Government of Castilla y Leon.
Our innovative approach to languages puts learner experience and community building at the centre and has led to a Year 13 Continuity of Learning Project for A level students in Wales during Covid-19 lockdown. So far, this 12-week programme has been accessed by over 350 learners.
MFL mentoring in Wales goes from strength to strength and we are now developing a full digital experience for our Year 8 and 9 pupils for 2020-2021. As we embed digital in our practice and move towards the introduction of the New Curriculum for Wales, the project will take support schools, teachers, university students to prepare school learners for significant change, expected and unexpected.
As a project, research and evaluation are central to everything we do. We have worked to research how mentoring approaches can support introduction of multilingual methodologies; provide short reports on digital learning for languages and am looking to create a digital repository of our training materials. Take a look at our work in a recent article our team published in a special issue of The Curriculum Journal: https://onlinelibrary.wiley.com/doi/abs/10.1002/curj.11
These are exciting and innovative times – watch this space!
Claire Gorrara, Professor of French at Cardiff University's School of Modern Languages