Shaping society after COVID-19
29 April 2020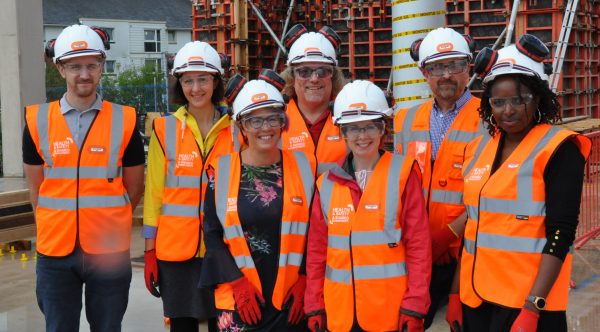 Professor Chris Taylor explains why Cardiff's interdisciplinary Social Science Research Park can bring post-pandemic benefits for all   
Beyond the eventual outcurve of coronavirus recovery lie questions around society's response to pandemics.
Medical science researchers are showing how – in the immediate hunt for a vaccine – universities can mobilise expertise, skills and resources to respond to such crises.
As SARS-CoV-2 abates, social science researchers will seek to understand the wider impact of COVID-19 on human behaviour, the economy and society at large.
Big data, statistical modelling and behavioural science – tools employed by medical researchers – will play a key role in helping social scientists understand the impact of the pandemic and shape public policy.
Cardiff University's Social Science Research Park (SPARK) is well placed to play a key role in emerging studies of societal change.
SPARK brings interdisciplinary research groups together to pool expertise and work in new ways. We will reinforce our collective power when we move to a purpose-built home – sbarc ǀ spark – on Cardiff Innovation Campus.
All the SPARK research centres have been responding to COVID-19 in various ways. These have included reviewing previous research to identify how they could make a valuable contribution now.
Many research centres have begun to re-purpose current research activities to focus on the new challenges of COVID-19.
And SPARK's members have been developing and designing a wide range of new projects to help rebuild the economy and society.
These include the impact on adult and children's wellbeing; developing educational materials to support children's wellbeing; modelling the economic consequences of the pandemic and examining how it might influence attitudes and behaviours towards climate change.
Our centres are researching the impact of the pandemic on a wide variety of professional communities, including medical practitioners, care workers, teachers and social workers.
We are considering responses to the new awareness about food security and supply chains, and studying how variations in levels of community and social capital have impacted on our ability to respond to the crisis.
How best to 'restart' the economy whilst also benefitting the many public services required to support society during the pandemic is a further research theme, together with simply learning from the responses that individuals, organisations and institutions have taken in response to this pandemic.
Although sbarc|spark is yet to be formally opened, it is clear that SPARK has added significant value to this response, through greater collaboration, the development and sharing of innovative ideas, and working more closely with our non-academic partners.
It is very encouraging to know that SPARK will be able to progress these developments at considerable pace in the next 12 months in order to respond to some of the most challenging outcomes from this crisis.
Shortly before the outbreak began my colleague, Professor Rick Delbridge, attended the League of European Research Universities' Biomedical and Life Sciences Policy Group meeting at KU Leuven in Belgium.
Professor Delbridge – until recently the Dean of Research, Innovation and Enterprise at Cardiff University – told members about SPARK's 'best practice' across collaboration, innovation and impact. Colleagues from Barcelona, Dublin, Helsinki and Leiden expressed interest in SPARK and its model for innovative social science research.
Prof Dr Kurt Deketelaere, Secretary-General LERU, noted: "Cardiff is leading in Europe on Social Sciences and Innovation, an inspiration for all of us in the League of European Research Universities."
International interest in our work continues. We recently hosted a delegation from Scandinavia. Colleagues from Aalborg, Aarhuis, Lund and Malmo Universities were amongst those who met with colleagues to discuss SPARK, our Y Lab partnership with Nesta, student enterprise, and the public value agenda that is shaping both research and student engagement in our Business School.
SPARK's work is just beginning. International collaboration – post Brexit and COVID-19 – will be vitally important on the road to addressing global societal challenges. We are confident that in the years ahead SPARK will be best placed to support Governments and all our partners in responding to future crises."