Back to back success and recognition for Cardiff-based Smallspark
12 May 2020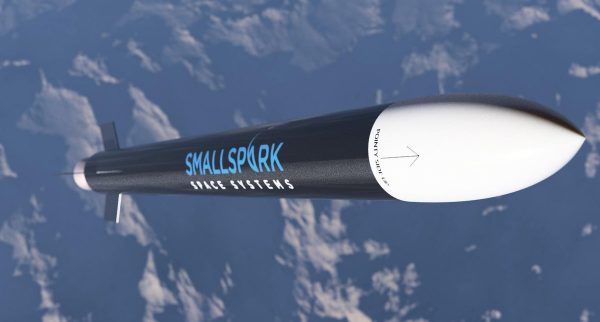 Smallspark Space Systems have signed up to the national SPRINT business support network which will generate access to funding for a major project looking to utilise Artificial Intelligence (AI) to improve and develop the performance of aerostructures and propulsion systems.
The project will be funded by a grant of £100,000 from the £4.8 million SPRINT (Space Research and Innovation Network for Technology) programme that provides unprecedented access to university space expertise and facilities. SPRINT helps businesses through the commercial exploitation of space data and technologies.
Cardiff University Graduate Joe Ward, Chief Executive Officer of Smallspark Space Systems said: "In the design of both our engines and our AI software, we're taking a fundamentally different approach. Aerospace and satellite companies are looking to decrease costs for small satellite launches whilst optimising the robustness and thrust of the rocket engines. This, and the geometry of combustion chambers present a series of unique challenges for engine manufacturers. This collaboration is the start of a long-term project that will go beyond SPRINT and that will position Smallspark as a leader for low-cost launches as the only company using architecture like this in the rocket engine market."
The Smallspark team have also recently garnered international recognition having been featured as the only UK entry in Via Satellite's Top Student and Young Professional Achievements of 2019 following their success at the Santander Universities student start-up awards.
Mr Ward said of the achievement "There have been long all-nighters to get us to where we are now but its finally beginning to pay off and I cannot wait for our team to grow a little larger soon. I want to make Smallspark the lead small launch vehicle provider in all of Europe within the decade and a company Wales can be proud of.
Rhys Pearce-Palmer of Cardiff University Enterprise manager said "As a student, Joe made fantastic use of the start-up support available from the Careers & Employability Department. We were able to offer him business mentoring, seed-funding and office space. This ultimately led to SmallSpark winning the Cardiff University Student Start Awards in 2019. It's no surprise that SmallSpark has continued to go from strength to strength. Their latest success is credit to Joe being such an enterprising, ambitious graduate.