Keeping us safe: ideas, Endeavr and innovation in UK cybersecurity
13 November 2019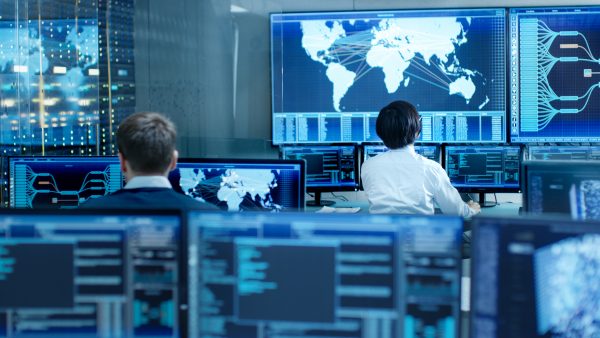 Ask a person in the street about cyber security, and you'll find answers that vary dramatically. Some people are tech savvy, some are confused.
A poll – recently included in the National Cyber Security Centre (NCSC)'s third Annual Review – shows most are concerned and, to some extent, fatalistic that they will become victims of cybercrime.
In the foreword to his report, CEO Ciaran Martin – who visited Cardiff University earlier this year – notes 70% of the 2,700 people questioned believe they're likely to be a victim of at least one specific type of cybercrime over the next two years. Most feel there would be a big personal impact.
But the positive news we can glean from these numbers is that 30 per cent of people are on the right track. Here at the Airbus Centre of Excellence in Cyber Security Analytics, we're aiming to help prove the pollsters wrong.
As worldwide trust in the internet falls, our relationship with NCSC can only help to build confidence.
We do this is through constant innovation – teaming up with industry backers, governments and funders to transfer expert knowledge from senior and early career academics, PhDs and post-doctoral researchers into products and services that can make us more cyber secure.
Recently, I attended a special celebration of collaboration and coinnovation through Airbus Endeavr Wales
The project brings the global manufacturing company together with Welsh Government, Cardiff University, other academics and small businesses to help make innovative ideas become reality – funding the development of early stage research to the point where commercial value can be realised.
Endeavr is passionate about innovation, collaboration and supporting others to create the products of the future. I know this because, a few years ago, I was lucky enough to be involved in a project funded by Endeavr that has revolutionised how we think about managing risk to complex safety critical systems – the kind that run manufacturing plants and keep the lights on around the country.
Our relationship blossomed; ideas and funding flowed. Cardiff attracted external cyber security research funding amounting to more than £3.8m between 2012 and 2016 – plus a further £4m+ to sustain the Research Centre to 2021, drawing down nearly a decade of sustained funding totalling £7.8m in total (FEC) and funding seven postdoctoral researchers at Cardiff.
What began as an initial research project has blossomed into a long-term strategic partnership with Airbus – including the launch of an Airbus Centre of Excellence for Cyber Security Analytics at Cardiff University in 2017 – the only centre of this nature in Europe.
Thanks to this growth, in August 2018, the University was officially named an Academic Centre of Excellence in Cyber Security Research by the NCSC, becoming the first institution in Wales to be given this status.
We are part of a network of ACEs across the UK, all working in different areas of cybersecurity research. Here at Cardiff, our strength-in-depth expertise lies in cyber security analytics – the fusion of Artificial Intelligence (AI), cyber security and risk.
We are recognised for our knowledge within NCSC, Airbus and internationally, partly as a result of Endeavr's support – our interdisciplinary focus and links with industry underpin our whole approach to research.
As we celebrated the Endeavr milestone, we were shown future advances in innovation across Wales – ideas becoming reality thanks to a decade of Welsh Government funding and collaboration.
At the heart of our cyber futures lie skilled people. As a Centre of Excellence, we nurture young talent and foster a pipeline of future cyber security professionals – much-needed software engineers, data scientists and cyber security specialists.
We hope Cardiff, Airbus Endeavr Wales and our pool of talented students and staff will continue to inspire confidence in the years ahead.
Evidence shows that, thanks to the academic innovation, NCSC has been able to increase the number of threat indicators it shares by tenfold to more than 1,000 per month – and can process them in a matter of seconds.
In the longer term, there's much to celebrate. The NCSC annual report notes the UK was rated first in the Global Cyber Security Index published by the International Telecommunication Union (ITU).
By working together over the decades ahead, we might just beat the pollsters.
Pete Burnap is Professor of Data Science & Cybersecurity, School of Computer Science and Informatics at Cardiff University – BurnapP@cardiff.ac.uk