P.S. We love you
14 February 2020
Cardiff students work with a wide variety of objects at the university lab, on placements or other volunteering opportunities. It's difficult to pick a favourite object – like choosing a favourite child! But in the spirit of Valentine's Day, we've asked six students to tell us about a special object that they've loved working with.
---
Black Lemur (Eulemur Macaco) Skeleton aka: 'Loki' from Bristol Museum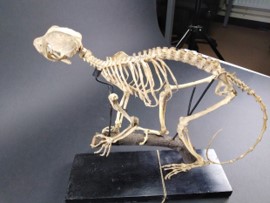 I fell in love completely with Natural History after my first ever placement at the Cambridge University Museum of Zoology in 2017, so was super excited when I got Loki as an object last year. I've loved the challenges he's presented me, and how much difference the treatment has made-he's one of the first objects I've been truly proud of since I came to Cardiff, which is one reason why I have a soft spot for him. I think another reason I love him as an object is because of how close he is to a human-he's completely unlike an iron nail or broken ceramic, he has a face, he has human-like features, and that probably makes him more relatable, especially as he was in such a poor condition when he came to me. I'm a sympathetic person anyway, and I guess I passed this sympathy onto Loki after seeing how sad it was that he was in the condition he was.
Emily Franks, MSc Professional Conservation
---
Japanese dollhouse from Bristol Museum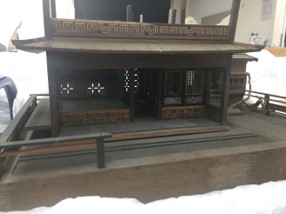 After a year and more working on iron I thought I'd take a different route towards the end of my time at Cardiff and fell in love with this Japanese house model. Small, intricate, wooden and full of interesting features such as working sliding doors and a small staircase at the back, I found it a joy to name the different features of the house in both Japanese and English and determine the best way to clean and reassemble the house. It'll prove to be a nice challenge away from inorganics and I'm already excited to see the changes that cleaning will bring to it.
Olivia Haslam, MSc Conservation Practice (2nd year)
---
Bronze relief of St. Cecilia (family heirloom)
This bronze relief of Saint Cecilia (patron of music) is one of my two family heirlooms, passed to me by my grandmother before she passed away. I started the cleaning process to remove layers of Brasso. I could imagine her, dutifully cleaning the silver surface with strict periodicity, as she was a stern woman. Once I finished the process, I could clearly see the saint's features. Maybe it was me, but it was like seeing a portrait of my grandmother.
Years of poor storage has passed as I have been travelling around the world. Now I have it with me in the UK, and it is time to clean it once more, following my grandmother's cleaning regime.
Paz Tejada Urbina, MSc Care of Collections
---
Pocket watch fragment treated at Maryland Archaeological Conservation Lab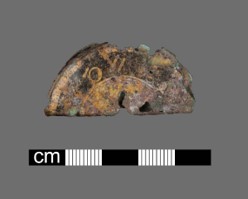 It was given to me described as "crushed copper disc" and for the first day of cleaning I had no idea of what it was. It wasn't until I started uncovering some numbers that I realized it was the face of a pocket watch. It is my favorite object I've worked on because the work I did was not only conserving it, but discovering what it really was under that corrosion.
Henry Rincavage, MSc Conservation Practice (1st year)
---
Albatross from Royal Albert Memorial Museum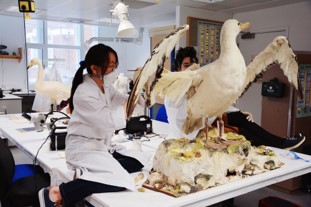 The big albatross is the most impressive object I had conserved during my placement at Royal Albert Memorial Museum. It took my partner and me few days on cleaning, aligned the feathers and consolidated some part of the plinth. I also did some solvent tests to try to remove dirt and yellow stains on feathers. Working on these birds needs good observation, patience and careful skills. It is really interesting and a precious experience.
Shyanne Chen, MSc Conservation Practice (2nd year)
---
Archaeological stained glass from Dominican Blackfriary in Trim, Co. Meath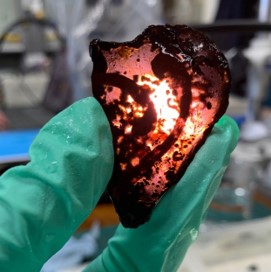 My favourite object is actually one of my most recent ones – a decorated piece of mediaeval stained glass that's part of the large Blackfriary stained glass assemblage from Ireland, which the Cardiff University Conservation department has been treating. What I love most is the stunning pink colour that you get when you shine a light through it! When I look at pieces like these, I can't help but imagine how beautiful the original windows would have looked when they were intact, and this object seems especially appropriate for Valentine's Day, as it's broken into a heart-like shape as well!
Gabriella Cortes, MSc Conservation Practice (1st year)
---
Love comes in many forms…
Search this blog
Join 25 other subscribers.