Out of the Lab and Into the Woods
3 March 2017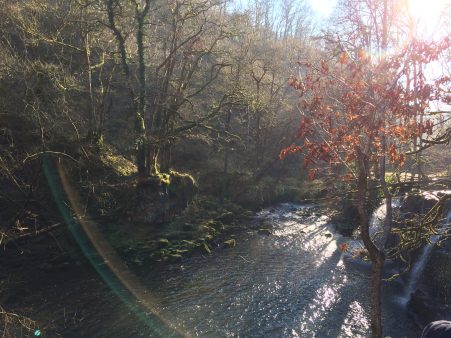 While the conservation department focuses heavily on our artifacts and the projects that we work on on a daily basis, we also make time to get out of the lab. Every so often the department organizes a hike to get us away from our swabs and scalpels and into the stunning Welsh countryside.
Our last scheduled hike was February 18th. A few of our adventurous members traveled to Glyntawe and ventured forth to Llyn y Fan Fach, a picturesque lake in the Black Mountain Range. Traveling through the low hanging clouds on the high ridge of Fan Hir and Fan Brycheiniog, our students came out the other side with some amazing photos to share. Some have been posted on our Flickr account in the Glyntawe to Llyn y Fan Fach – 2017 album.
The previous hike, in January, was to the Four Falls Trail in the Brecon Beacon National Park. It had the highest attendance rate yet at 19 students. Alongside our undergraduate and post graduate students, alumni also join us for our hikes. It's a great opportunity to explore the beauty of the country around us, interact with students from many different years, and to simply have a good time.
The next hike is scheduled for March 19th and we will be doing a castle walk at Carreg Cennen in Carmarthenshire, to enjoy not only the natural beauty but also the cultural heritage of Wales. We are eager for this trip out of the lab and already have a list of 15 people signed up and growing.
If you would like to travel with us virtually on our hikes, you can see our photos on our CU Conservation Flickr account.
All photos not credited are courtesy of the author.
Search this blog
Join 25 other subscribers.