Working with The National Trust at The Carlyle House
20 February 2017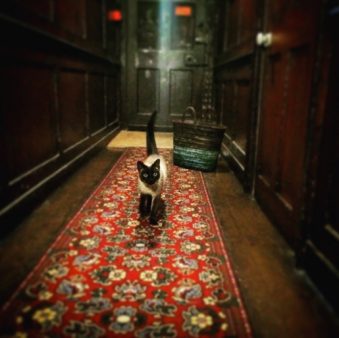 In late January I was privileged to join the Carlyle House Wallpaper Survey team with Andrew Bush (National Trust), Rebecca Ellison (National Trust), Johanna Payne (Independent Paper Conservator) and Linda Skippings (The Carlyle House Steward).
We were tasked to survey the wallpaper condition in the hallway and stairway over two days and draw up a report with photographic evidence, condition descriptions, and diagrams, as well as set up 10 monitoring sites and re-adhere a few sections. A lot to do in a short period of time! Previous condition reports had been done by Sandiford and Mapes – a wallpaper specialist team.
Rebecca and Andrew were managing the project and myself and Joanna Payne were on the floor, doing the surveying. Neither myself nor Joanna had seen the house nor the scope of the project till the day of, so we had to assess the situation quickly and come up with a game plan. Covering 5 floors, we methodically worked our way down, covering every nook and cranny and finding where the drafts were, the cobwebs, the cracking and peeling, where it had been previously restored, and looking out for whole panels that had bowed and pulled away from the framework. Other times the section had been heavily overpainted. The challenge of surveying such a large area is to maintain fresh eyes. It's important not to become accustomed to the general condition but to see it all, take note of it and document it, all the while keeping in mind the future reader of the report. Remembering your reader ensures that your choice of words is clear and your chosen vocabulary is consistent throughout the report.
The Carlyle House is the home of the literary couple Thomas and Jane Carlyle. In 1834, they moved from Scotland and set up base in the then affordable and "unfashionable" neighbourhood of Chelsea.
The house is kept within the "history of spirit" – it has not been turned into an exhibition of oddities or a theme park with interactive games, it has remained a home of the literary couple from the 1800s that we get to peek in on, get to glimpse at. This is done by keeping the house's natural lighting and not putting everything behind cabinets/plexiglass, allowing the real domestic feel to remain.
Maintaining the authenticity often creates some difficult challenges for conservators and managers – how do you control the environment with minimum intervention? How do you control where people rest or brush past? The house is limited to 7000 visitors a year, cutting traffic down drastically, but that is still a significant number of people to enter the house yearly, and it takes it's toll.
So, in order to manipulate visitors' movements (not to rub, lean, brush against the walls), photos and pictures were hung all along the stairway wall. Now, instead of leaning on the wall, the visitor would look at the wall. This sort of tactic and control measure echoes what we've learnt in Jane Henderson's lectures on Museum Collection Management. It was wonderful to see these measures in action at the house and learn about them through the House Steward.
It was Linda Skippings (House Steward) who was a real source of knowledge, as she has been the steward of the house for 16 years. She told us about the paintings, their umbrella policy, the different UV screens, where an old radiator used to be, and where visitors tend to lean. Information like this is helpful for surveys and conservators, but is very seldom documented. This brought up the importance of oral history. A lot of conservators work with objects or projects that have been previously restored but without documentation, so having a resource like Linda was vital to the project.
It was satisfying to see conservation on a practical level and very fulfilling to get stuck in with a new team, iron out all the wrinkles and come up with solutions, some of which we predicted and some of which we came face to face with on site. I am grateful for the opportunity to work alongside such experienced members of the industry, and will definitely take this experience forward with me in my future work.
The celebrity couple are famous for their letters – The Carlyle Letters Online database (hosted by Duke University Press) is a great resource to browse their writings.
---
Comments
Search this blog
Join 25 other subscribers.