New Vice-Chancellor, student numbers, industrial action, University of Sanctuary
30 January 2023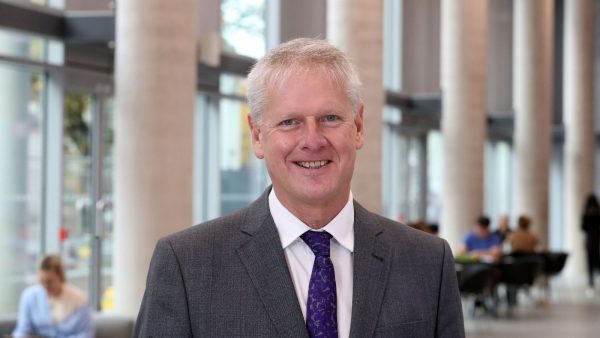 Dear colleague,
I would like to begin this month's email by welcoming and congratulating my successor, Professor Wendy Larner, on her appointment as President and Vice-Chancellor of Cardiff University from 1 September 2023. From my own experience I am sure that Wendy will enjoy the role, and I know the University will flourish under her leadership. I wish her all the very best, and will do everything I can to ensure a smooth and seamless handover.
Meanwhile I am the Vice-Chancellor for the next seven months and am absolutely committed to seeing us through the various challenges we face. The uncertainty we constantly contend with feels greater than ever, although that is something I have said on many previous occasions. Nevertheless it is true that when I began as a Vice-Chancellor at the University of Essex in 2007, there was far more certainty and it was much easier to make reliable planning assumptions. Home student numbers were centrally distributed, fees were less of an issue and teaching and support grants were appropriate to the tasks we needed to carry out. Now we have to acquire most of our resources ourselves, in competition with many other universities, and are reliant on fee income from international students for our financial sustainability.
On that subject, UK government policy on international student visas is the subject of vigorous discussion between ministers at present, with a strong case being made for the importance of continuing the extremely successful path we have been on over the last three or four years on the one hand, and a desire to moderate numbers in order to reduce net migration on the other. Universities UK believes we have an array of arguments on our side; not least that all the evidence says that the public does not regard students as migrants, since the great majority do not settle in this country. Collectively, UK universities are committed to making that case while here in Wales we must persuade Welsh government that financial support for universities is as important as financial support for students. The inflationary pressures on students hold true for universities as well, and if we are to provide the learning and teaching environment that students deserve, government support for universities must reflect those pressures.
The high inflation we are presently experiencing stems largely from the squeeze on energy supplies caused by Putin's war of aggression in Ukraine, and has in turn become a key element in the wave of strikes we are seeing across the public sector in this country. You will be aware that the University and College Union has announced 18 days of strikes beginning on February 1, and should all these strikes go ahead, they will undoubtedly disrupt our students' education. I am sure nobody wants to be in this position but unfortunately at the moment there is a significant gap between UCU demands — which are quite complex and range across pay, conditions and pensions — and what the employers feel collectively they can deliver. It is important to recognise that this is a national dispute and that whatever solution is reached must be acceptable to well over a hundred institutions across the UK. On the plus side, negotiations continue, and while that happens we can hope that there may be a route through the present impasse. It is important to recognise that because both the unions and the employers are committed to national collective bargaining, all institutions involved must be able to honour any agreement on pay, including those facing the greatest financial challenges. I made my position clear on these matters in a joint statement with UCU last year, and have recognised the cost of living pressures that our staff are facing as well as the exceptional commitment everybody has shown through the covid crisis. I realise that many people will have concerns and questions, and there will be an opportunity to discuss those in due course.
In happier news, I'm delighted to say that recently we were awarded University of Sanctuary status. Universities of Sanctuary arises from the Cities of Sanctuary programme, and is an initiative that recognises and celebrates the good practice of universities in welcoming people seeking sanctuary by helping them go to university if that is the right route for them, and supporting local refugee communities. Our plan of action highlights the ways in which we will help create a sense of belonging which leads to a better experience in accessing university and living in Cardiff. This was a very broad-based effort involving people and teams from across the University and it is impossible to thank everybody here, but a special mention must go to Venice Cowper.  As the leader of our sanctuary working group Venice was key to this whole project, and is the best point of contact (cowperv@cardiff.ac.uk) if you would like to know more.
As I have mentioned before, we are seeing a very significant increase in our research grants and contracts, both in the pipeline for the future and projects in progress. Applications are up more than 40% on the same period last year, awards have more than doubled and have increased by 89% even if compared with the average for the same period over the last three years, while income (which equates to expenditure on current projects and is a good proxy for how research we are doing) is at a record high, almost £6m or 12% up on last year. This is not only a great testament to the ability and commitment of our researchers across the university but also a vindication of our policy of investment in recent years. The spectacular success in awards means that we can confidently look forward to a significant increase in research income (and therefore activity) in the coming months and years, so the pipeline is in a very healthy state. My heartfelt thanks to everybody involved for their hard work during some particularly difficult years for researchers.
One particular project which came to my attention — and there are many, some of which I want to come back to in future emails — was Professor Alan Felstead's success in securing the contract to deliver the British Employment Survey once again, which has been collecting data periodically for the past 35 years.  The Skills and Employment Survey 2023 (SES2023), which also involves researchers at UCL, the Universities of Oxford and Surrey and the National Centre for Social Research, will cover an extraordinary period of turbulence through Brexit, the pandemic, the Ukraine war and the cost of living crisis. The way we work has been transformed by covid in particular, as we are all aware, especially since the ability to work from home or other non-work premises location is now part of everyday working life for many people, which in turn means that much of the travel previously associated with work is no longer necessary. The research will investigate the extent to which employee preferences for where they work are being met by employers, as well as the impact the changing location of work is having on productivity, work intensity, skills development and promotion prospects. Other key changes to be examined include the growth of insecure work and the impact of technology on how workers are managed, while the relationship between workers' mental health and wellbeing and the social usefulness of the work undertaken will also be considered. It is self-evident that this work, which has been funded to the tune of £2m from the Economic and Social Research Council (ESRC), the Department for Education in England and the Advisory, Conciliation and Arbitration Service (Acas), will provide vital data and analysis to help us understand a new world of work that many of us are still feeling our way in. Congratulations to Alan and his colleagues for securing such an important contract.
Congratulations are also due to the University staff who were recognised in the King's New Year Honours List for 2023 (as I was with a CBE). Those colleagues include Professor Peter Ghazal, who was awarded an OBE for services to systems immunology. Professor Ghazal, Sêr Cymru Chair in Systems Medicine at the Systems Immunity Research Institute, has pioneered the field of host genomics of early-life infection. In addition, Professor Helen Sweetland, Emeritus Clinical Professor at the School of Medicine, was awarded an MBE for services to patient care and medical education. Many congratulations to both, and to all the Cardiff alumni who were honoured this time round.
With best wishes
Colin Riordan
Vice-Chancellor
Read about our strategic direction and focus on research and innovation, education, international and engagement.