Returning to Cardiff, your exams, your Student Voice and your safety
16 April 2021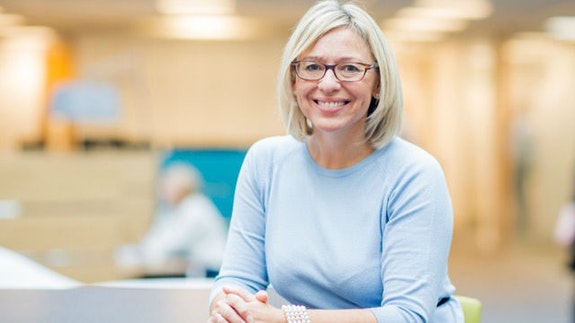 Read a message from Claire Morgan, Pro Vice-Chancellor for Education and Students sent on 16 April.
Dear  Student
I hope you had an enjoyable Easter break. I know some of you will have spent it continuing to support the COVID-19 vaccination effort (and a shout-out to Martha, one of our Year 4 Medicine students who administered my vaccine last week), and on behalf of everyone at the University I want to thank you for the important part you're playing.
Before the holidays, I wrote to you with a Welsh Government update which confirmed we could return to a blended learning approach from Monday. Your School will have been in touch to clarify what that means for you. There have been further Welsh Government updates since then, and it is encouraging to see some signs of a return to normality, although we must all remain cautious to prevent COVID-19 cases increasing again.
This email is longer than normal but I am keen that you have a fuller update so you can take appropriate action where needed.
Returning to Cardiff
Many of you have already returned to Cardiff to make use of facilities (such as libraries or study spaces), while we also know some of you may still choose to study remotely.
If you are now planning to travel to Cardiff, please be aware of the latest Welsh and UK government restrictions:
Travelling to Cardiff from within the United Kingdom or Common Travel Area:
Travelling to Cardiff from a country on the amber list:
Please tell the University of your travel plans by completing a short form – this information will be shared with local health authorities for the purposes of ensuring compliance with Welsh Government guidance
If you are arrive from an amber list country, before travelling one of the actions required will be to complete a passenger locator form. This asks for an address at which you are able to self-isolate.
Once you reach Cardiff, you will then need to self-isolate – this is a strict requirement which you can comply with if you have an en-suite room in either University-owned or other halls of residence
If you have a partial en-suite room with a bathroom shared with only one other person we will need to discuss this with you, so please contact Residences.
If you are in accommodation with bathroom facilities shared with a number of others you need to contact Residences to book an en-suite room for the required 10-day isolation period. This is available to both students already in University accommodation and living elsewhere. 
We are putting in place a set of measures to help you during this period, including a meal "click and delivery" service. We will provide students with £120 in the Marketplace to cover the 10-day isolation period, which we will deliver to University-owned and other halls of residence sites in Cardiff.
The University will also reimburse the cost of the COVID-19 tests you will be required to take on days 2 and 8 after your return
To make sure you get this support from us, it's essential you tell us of your travel plans.
Travelling to Cardiff from a country on the red list:
If you are travelling from a red list country, you will need to enter the UK via an approved port of entry, and immediately enter a period of 'managed quarantine' for 10 days at a UK airport hotel. Note you cannot enter Wales directly from a red list country at this time.
The University will reimburse the cost of the COVID-19 tests you will be required to take on days 2 and 8 after your return
Please tell the University of your travel plans by completing a short form – this information will be shared with local health authorities for the purposes of ensuring compliance with Welsh Government guidance.
Regular COVID-19 testing keeps us all safer
Once in Cardiff (and where applicable, after your quarantine period) keep using our screening service on a weekly basis if you do not have COVID-19 symptoms.
In Cardiff (and the Vale of Glamorgan) COVID-19 symptoms now include both common ones (a new continuous cough, a high temperature, and/or loss of or change to sense of smell or taste) and wider symptoms (fatigue, myalgia – muscle ache or pain, a sore throat, a headache, sneezing, a runny nose, a loss of appetite, nausea, vomiting, or diarrhoea). If you have any of these symptoms you should self-isolate and book an NHS COVID-19 test. 
However, those you live with do not need to self-isolate as well if you have none of the common symptoms.
Exams and assessments
As you know, the Spring exam period is between 24 May 2021 to 18 June 2021.
Personalised timetables were published on 22 March. You can view your personalised timetable on SIMS. Your timetable will appear under My Student Record – Exam Timetable.
It is your responsibility to check that all your exams appear on the timetable and to make sure you know the date and time – and take all your exams. If you have a question about your exam timetable, please contact your School Office.
Extenuating Circumstances apply when circumstances outside your control impact on your ability to perform to your academic potential. We have made changes to the Extenuating Circumstances Policy to permit you to self-certify if you have extenuating circumstances granting, for example an automatic two-week extension for coursework or to defer examinations or a time-limited assessment.
If you would like advice about completing the extenuating circumstances form, you can receive independent advice from Student Advice in the Students' Union on +44 (0)29 2078 1410 or advice@cardiff.ac.uk
Your Student Voice – Shaping your university
Monday marks the launch of both the Postgraduate Taught Experience Survey (PTES) and the Postgraduate Research Experience Survey (PRES). Both of these surveys give our postgraduate students the opportunity to tell us about their experiences at the University, which will help us to identify areas where improvements could be made to the experience of research degree students.
The surveys look at themes specific to postgraduate taught or postgraduate research students, so I urge those students eligible to give their feedback and have their say.
I'd also like to remind you that all students have a chance to give feedback through our monthly Cardiff Pulse survey. The feedback you provide will be used by staff in your School to improve the support and advice we offer to you and your fellow students and the monthly results will be published on the intranet. I will look to provide you with feedback on what we are doing with this information and other student voice mechanisms in a future email.
Your safety
As you may be aware there have been some incidents of crime within the local areas surrounding our residences.
The safety and security of all our students are paramount and therefore we are asking all students to ensure they are carrying their student ID cards and, where relevant, their residences ID cards.
I also want to encourage you not to face any violence or abuse you may experience alone. Help is available, and both the University's Disclosure Response Team and various services in the community can support you. Read our advice on how to minimise any risks to your personal safety.
Finally, I am delighted to welcome back our remaining students to Cardiff for this final term. Please do stay safe, look after your friends and if you need any advice or support please don't hesitate to contact Student Connect.
Best wishes
Claire Morgan
Pro Vice-Chancellor, Education and Students
Read about our strategic direction and focus on research and innovation, education, international and engagement.