Message from the Chief Financial Officer and Pro Vice-Chancellor, International and Student Recruitment
14 July 2020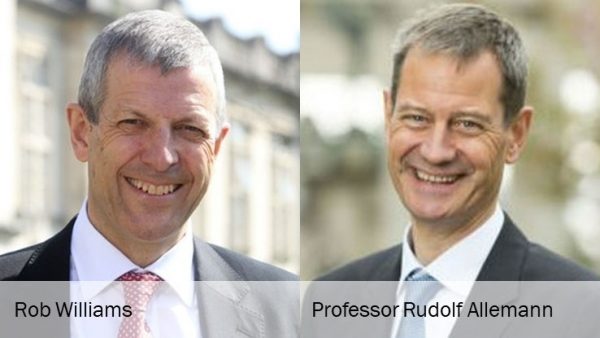 Dear colleagues,
Over the past four months, since the scale of the impact of Covid-19 first became apparent, the Vice-Chancellor and other members of the University's Executive Board (UEB) have been keeping you updated on the situation here at Cardiff in a series of emails. Our work in support of our primary focus — measures that are necessary to keep staff, students and our wider community safe by following the most up-to-date public health advice — has rightly been prominent in many of these messages.
In parallel to this activity, our other key priority, of which you will also be aware, is ensuring our financial sustainability through the pandemic, so that we are well-placed to thrive in the years beyond. As we approach the end of our financial year on 31 July and enter the period during which likely student numbers for next year become clearer, we are now writing to share our latest projections of the University's financial position in 2020/21.
When the Vice-Chancellor wrote on 4 June our realistic estimates were for a deficit of £102m in the next financial year, after implementing the 10%/£50m 1st Stage cost reduction programme that is underway at the moment. However, the circumstances in which we are operating – internationally, nationally and locally – are changing continually, so we keep our estimates and underlying assumptions under regular review. The latest changes in our projections are:
Home student number projections are improving
Tuition fees made up 45% of our income last year. In order to protect that revenue, the Recruitment and Admissions Strategy Group (RASG) is co-ordinating the very considerable effort being undertaken in Colleges, Schools and Professional Services across the University to give us the best chance of recruiting and converting suitably qualified students to our undergraduate and masters courses this autumn. RASG has received analysis of a wide range of data and information from a variety of sources – Cardiff applicant feedback, sector-wide data, external surveys and focus groups and insight from our overseas agents – to tailor our messaging and approach to both home and international applicants. RASG has overseen collaboration across the institution on the development of new start dates for some PGT programmes, our first Virtual Open Days, and new marketing strategies and messages that resonate with key markets in the current situation.
At the same time, the national picture in relation to undergraduate applications has proved to be broadly stable compared to the same point in the recruitment cycle last year. The latest national figures from UCAS show that over half a million applicants are holding unconditional or conditional firm offers to start their degrees this autumn, an increase of 1% on last year. Before the pandemic our own applications had significantly increased compared to 2019. Applications, offers and acceptances at Cardiff remain encouraging, but given the many factors beyond our control, we cannot be complacent that this will convert into the enrolment numbers we would normally expect. We are therefore concentrating now on preparing for the main period of Confirmation, Clearing and Adjustment (CCA) in mid-August, bearing in mind the stabilisation measures that the UK Government has introduced, which outline the numbers of Home/EU students we can recruit without financial penalty. We are also monitoring the situation closely in key countries from which we recruit a significant proportion of our international students.
Bearing all this information in mind, we have now revised the assumptions about student numbers that we are using in our 2020/21 financial forecasts. For Home/EU enrolments, we now forecast that the University will reach 90% of our original target for undergraduates and 80% for taught postgraduates; for all international enrolments, we are assuming 40% of our original target. In terms of non-continuation, we are assuming that an additional 10% of Home/EU undergraduates will withdraw at the end of their first year, with no change in subsequent years, while for international undergraduates, we are assuming an additional 25% withdrawal at the end of their first year, and 15% for subsequent years. These are all still only estimates, and, in the main, do not attempt to reflect possible differences between and within individual Schools. As this graph shows, with these assumptions, our projected fee income is now £212.1m, £86.6m below our pre-Covid-19 projections.
Despite recent successes, research and other grant income remains challenging
While tuition fees are the largest of the various streams of our income, other sources of activity and funding are also important. Research grants, for example, made up 22% of our income last year. From early in the pandemic major charitable funders such as Cancer Research UK have made no secret of their expectation of a reduction of up to 25% in donations this year, nor of the implications this will have for their ability to fund research. This is just one factor that will inevitably have an impact on the research grants that will be available to all universities at the moment.
In addition to these uncertainties, in common with other universities in Wales, we are still awaiting confirmation from HEFCW of the grants that they will be making to us from 1 August. Our best estimates are that we will receive no more than 75% of the 2019/20 grant of £85m, covering revenue, capital and one-off allocations. At the same time though, the Westminster government has announced a series of grants that will support Covid-19-related extensions to research projects funded by UKRI and the National Academies and low-interest loans that can be used to support research and innovation capacity within institutions through a period when other revenue streams have shrunk. As the details of these initiatives become clear, we will factor their implications into our financial projections.
What impact does this all have on our financial projections? Bearing all this in mind, UEB is now working with a revised projection of our financial position next year which, after implementing the current £50m savings programme, results in an operating deficit of £75m, as shown in the graph below. While this is an improvement on our previous planning assumption, it is only an estimate and, even if correct, means that the University will still need to increase its income or find further cost savings in order to balance its books next year.
We continue to work with our unions and, as suggested by the Professors at Cardiff group, we will be establishing an expert finance panel to review our projections.
When will we have greater financial certainty?
Early in September, when the CCA process is complete, we will have a more reliable indication of student numbers next year, and will be able to update our financial projections. However the delayed start dates for several PGT programmes mean that it will only be later in the first term that we will have clarity. In the meantime, we will continue to monitor the situation closely and update you on any major changes to our estimates.
Clearly, we still face a considerable degree of uncertainty, and we want to thank you all once again for your continued efforts to maintain the high quality teaching and research that we, our students and our wider community rightly associate with Cardiff University.
Best wishes
Rob Williams, Chief Financial Officer, and Professor Rudolf Allemann, Pro Vice-Chancellor, International and Student Recruitment and Head of the College of Physical Sciences and Engineering.
Read about our strategic direction and focus on research and innovation, education, international and engagement.