Vice-Chancellor's all-staff email – December 2019
6 January 2020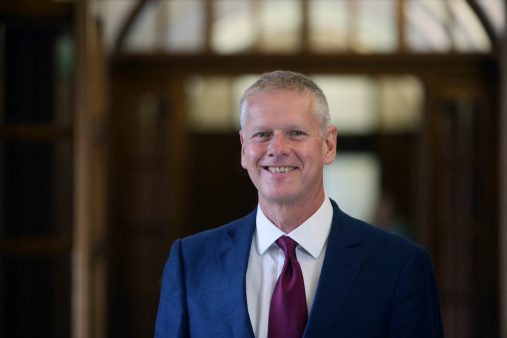 Dear colleague
It has been an eventful year both for the University and the country. In terms of the University we have brought medical training to North Wales for the first time, in partnership with Bangor University; settled our School of Journalism, Media and Culture in its brand-new premises next door to BBC Wales; continued to develop our hugely successful new Data Science Academy; established the Clwstwr Creadigol in its new premises with £10m funding from the Arts and Humanities Research Council through the Creative Industries Clusters programme; won a £10m grant to support adolescent mental health from the Wolfson Foundation; established our new Centre for Climate Change and Social Transformations (CAST) with £5m of support from the Economic and Social Research Council; contributed to the production of the first ever image of a black hole in a (relatively) nearby galaxy; supported a range of cultural festivals in Wales including the Urdd Eisteddfod and the National Eisteddfod; and started work on the Community Centre at the heart of the University's Community Gateway project in Grangetown with £1.6m from the National Lottery fund. All these achievements and more are detailed in our annual report, which has now been published. You can find a link to the report, along with a helpful commentary on our financial results from our Chief Financial Officer, Rob Williams, here.
In terms of the UK, the decision-making process that had largely been in abeyance as a result of the hung parliament and Brexit paralysis has finally been reinstated. We once again have clarity on the key question dominating Brexit, that original clarity having been thrown into doubt by the result of the 2017 election. The 2016 referendum result has been decisively confirmed by our parliamentary democracy and the question of a second referendum no longer arises. Uncertainty remains concerning the terms of our relationship with the European Union once the transition period envisaged by the Withdrawal Agreement (which will be ratified by the new Parliament in the coming days and weeks) comes to an end in 2020. Before the election, government policy was to seek association with Erasmus+ and Horizon Europe if possible. The new government's briefing notes to the Queen's Speech delivered on 19 December confirm that the intention to 'collaborate internationally and with the EU on scientific research, including […] through Horizon' continues, so there will doubtless be much work to be done and the hope is that universities will play a key role in supporting that ambition. The section on research is highly ambitious, committing the government to 'making the UK a global science superpower that attracts brilliant people and businesses from across the world'. Changes to the immigration system to make it easier to recruit researchers are envisaged, along with a big funding boost and a new, mission-orientated research funding body. There is no mention of Erasmus+ in the briefing notes, nor of educational exchange or outward mobility, so we will want to know as soon as possible what plans, if any, the government has in respect of these matters. On a question that concerns us greatly, the introduction of the UK Shared Prosperity Fund to replace EU Structural Funds (which support regional development), there is little detail except that it will 'tackle inequality and deprivation in each of the four nations, binding together the whole of the United Kingdom'. The intention is for it to be less bureaucratic than the existing European system, and indeed reducing bureaucracy is a consistent theme where research is concerned.
Another telling line appears in the section on education: 'The Government will ensure that our universities are places where free speech can thrive, and will strengthen academic freedoms.' The think-tank Policy Exchange has already trailed the idea that there may be a Bill on academic freedom and free speech, so it is timely that HateLab, based at Cardiff University and directed by our own Professor Matthew Williams, has just published a report in partnership with the law firm Mishcon de Reya entitled Hatred Behind the Screens: A Report on the Rise of Online Hate Speech, exploring the darker side of free speech; namely the nature and scale of online abuse. The report tackles fundamental questions about how much we are willing to police and curb freedom of speech, and whom we hold to account, in particular platforms (such as Twitter and Facebook) that host third-party content. The examples on page 19 of speech that has illocutionary force — 'an act of speaking or writing which has a tangible or real outcome' — are instructive and well worth reading, given the divisions that our society has experienced during the recent election campaign. It is a timely reminder of the importance of careful choice of language, and of the responsibility we all bear to respect the dignity of others. Universities have a critical role in this respect. We must champion and uphold the values and practice of academic freedom and free speech, whilst simultaneously ensuring that we work to improve social cohesion, mutual understanding and fairness.
In that light I am delighted to report that one of our own students has persuasively demonstrated the importance of being able to speak one's mind in an appropriate manner by winning a national competition designed to help students prepare for their future careers as doctors. Medical student Aisling Sweeney created a workshop on the issue of speaking up as part of the competition, which was jointly organised by the General Medical Council (GMC) and the Medical Schools Council (MSC). The workshop Aisling designed helps medical students feel more confident about speaking up on critical matters such as patient safety when on placement, unprofessional behaviour and the health and wellbeing of themselves and others. Aisling reminds us that we all need to remember our personal responsibilities in these matters.
This is important in a variety of contexts. Many of us have to deal with another form of internet abuse in the form of 'phishing' emails that attempt to scam their victims or gain access to their data for a range of purposes. This year our IT colleagues have helped keep us safe by blocking 81 million individual pieces of email spam, but everybody needs to be wary of clicking on links in emails that in any way appear suspicious or are unsolicited. It is always worth double-checking that an invitation to click on a link has come from a reliable source. There is some useful information on the intranet about how to avoid falling victim to one of these scams and also what to do if you think you have received one. In fact it is generally a good idea to make sure you are up to date with the online training we provide in information security.
As we go in to 2020 there are some key staff changes. Congratulations are due to our new Director of Library Services and University Librarian, Tracey Stanley, who has been acting in the role for the last year. I wish her all the best in this important job. This month we say farewell to Professor Nora de Leeuw, Pro Vice-Chancellor for International and Europe, who departs for the University of Leeds to become Executive Dean for Engineering and Physical Sciences. I am very grateful to Nora for all she has done for Cardiff and she leaves with our very best wishes for the future. Earlier this month it was announced that Professor Amanda Coffey will be leaving Cardiff at the end of March 2020 to take up the prestigious role of Provost at the University of the West of England. We shall be sorry to lose Amanda but this is a huge opportunity and I'm delighted for her. The process for Amanda's replacement will be initiated early in the New Year.
All that remains is for me to wish everybody a peaceful and relaxing Christmas and a Happy New Year, sparing, as ever a thought for those colleagues who will be keeping essential services going and for those students who will spending the holiday period at the University. I'm very grateful for all the support, effort and work that colleagues and students have put into making the University such a success in 2019, difficult year as it has been, and I wish everybody all the best for 2020.
Warm regards
Colin Riordan
Read about our strategic direction and focus on research and innovation, education, international and engagement.