Data Science Academy
30 January 2019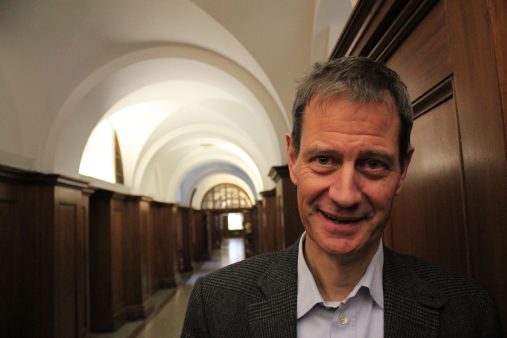 Developments in technology dominate the headlines these days. The digital sectors contribute billions to the economy and an estimated 1.2 million more people with specialist digital skills are needed by 2022. This is an exciting time for tech industries and for those charged with educating the next generation of digital specialists.
This week colleagues from the School of Computer Science and Informatics launched our new Data Science Academy to business and government.
The Academy will be home to a suite of Master's programmes in areas such as artificial intelligence, data science and analytics and cyber security. At the heart of the Academy's unique offering will be industry led, project-based learning, similar to the successful model already in place at the National Software Academy.
Access to "big data" is now a defining innovation of the 21st century with major economic and social benefits. It holds great potential for increasing productivity in existing industries – a pressing need for the UK economy – and for creating wholly new products and services.
Across the UK, the number of postgraduate students on data science related programmes has increased substantially. The School of Computer Science and Informatics has seen exceptionally strong demand for its PGT courses both from home and overseas markets. By taking an agile approach to student recruitment and ensuring they offer a diverse and contemporary portfolio, the School has more than doubled applications over the past three years. They are now one of University's key recruiting Schools and I've been impressed by their positive response to this growth; embracing and developing a thriving postgraduate community.
The response to the Data Science Academy model has been very positive. It is clear industry sees our innovative model of teaching as key to ensuring they can access specialised graduates who are ideal candidates for key positions in this exciting and thriving field.
Read about our strategic direction and focus on research and innovation, education, international and engagement.