Vice-Chancellor's all-staff email – July 2018
26 July 2018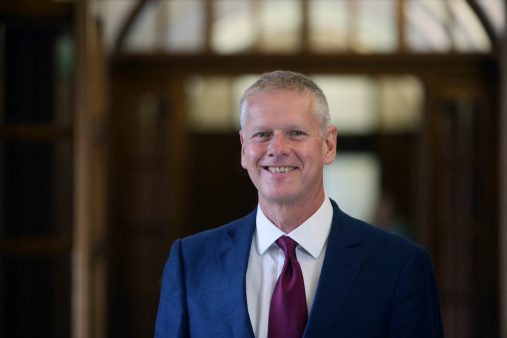 Dear colleague
It is a pleasure to start this month's email, the final one of this academic year, by congratulating those colleagues and friends of the University who were recognised in the Queen's Birthday Honours last month. Professor Billie Hunter, Royal College of Midwives Professor of Midwifery in the School of Healthcare Sciences, was awarded a CBE for services to midwifery and midwifery education in the UK and Europe, while Professor Graham Hutchings, Regius Professor of Chemistry and director of the University's Cardiff Catalysis Institute, received a CBE for services to chemistry and to innovation. Professor Haley Gomez, of the School of Physics and Astronomy, was awarded an MBE for services to astrophysics, astronomy and outreach activities. Also recognised was Honorary Fellow Robert Wainwright, former director of Europol, who received a knighthood for services to policing and security. Many congratulations to all of them on behalf of the whole University.
Over the years I have often had to talk about the uncertainties that face us as a university, and of course at the moment these appear to be at an all-time high, including Brexit, the unresolved disputes over pensions and pay and, here in Wales, the political future in relation to the election of a new First Minister. Those are all matters the outcome of which nobody can predict, and there is little I can say at this stage that would amplify upon the public debate. However, despite these uncertainties we have to plan for the future, and so earlier this month Council agreed our budget for the next financial year, with a forward look to a further two years. We will run at a deficit for one more year before returning a small surplus the following year and in year three returning to the surplus level of 2013-14. By then the full effects of the Diamond review will be felt in our grant from the Higher Education Funding Council for Wales. While we have budgeted very prudently over the years so that we can incur deficits for short periods of time, we cannot do so indefinitely and, indeed, need to keep those periods of time as short as possible. In order to achieve this programme we will have to consider carefully how to marshall our resources and will want to review our investment priorities. It is critical that in doing so we ensure that academic considerations are at the forefront, and that in delivering the required financial performance we take the opportunity to reinforce our position as a Russell Group university, and as the only university in Wales that has a realistic chance of appearing in the world top 100. Work on these matters will continue through the summer and into the autumn, and our Chief Financial Officer, Mr Rob Williams, will write an article for Blas with more detail in the next few weeks.
The big event of July is, of course, Graduation, which went very smoothly again this year. It is a big operation: 7,200 students crossed the stage in St David's Hall over the course of the week, supported by 25,000 friends and family. We held 17 ceremonies and awarded nine Honorary Fellowships, and Dylan the Dragon (the University mascot) worked overtime, sometimes in oppressive heat, to pose for photographs with graduates and their guests. Our colleagues in catering welcomed 14,000 people at the (new and improved) graduation receptions, serving 56,000 canapés, 15,000 cupcakes and 60,000 glasses of Prosecco. We even had a celebratory batch of 4,500 bottles of Cardiff University graduation beer brewed at Bridgend's Bang-On Brewery in partnership with the School of Pharmacy and Pharmaceutical Sciences. Our new graduates join over 160,000 alumni in more than 180 countries across the globe. It is an intensive operation requiring teamwork across the University. As well as Annabel Hurst and her team in catering, Fran Dunderdale and her colleagues in Registry organised the all-important presentation of graduates and related matters, and Ali Carter and her colleagues in the alumni team played a key role in the Honorary Fellowships and the associated celebratory events, as well as supporting all our new graduates. The teams from Portering, Security, IT and Communications worked closely with each other and with the Chief Marshalls and Orators without whom the ceremonies would be very much the poorer.  We also benefit greatly from the help of the graduation volunteers who direct students and guests around the city, and of course none of it could happen without the much appreciated support and effort of academic colleagues and Schools across the institution. The whole event seems to get better every year and I would like to thank very warmly everybody who put so much into making it a big success.
As I mentioned in my email last month, this year the Eisteddfod is being held in Cardiff from 3-11 August in Cardiff Bay and the University is playing a central role. As well as sponsoring the Crown and having our usual Cardiff Tent, we are sponsoring the Science Tent and participating in a huge range of activities which cover many areas of the University from Creative Arts to History, Medicine, Pharmacy and Earth and Ocean Science. It is a great opportunity not only to showcase our research and the contribution we make to our local communities, but our commitment to Wales. This year there is a new series of events, Mâs ar y Maes, which is a collaboration between the LGBT community, Stonewall Cymru and the Eisteddfod. All in all it looks an exciting programme, so do make it if you can.
Finally, in a new league table Cardiff University was placed 1st in Wales and 32nd in Europe for the excellence of our teaching, while the latest Higher Education Statistics Agency (HESA) employment of leavers figures for 2016/2017 show that record numbers of our graduates have secured a job and/or continued with their studies six months after graduating. 95.7% of UK full-time Cardiff University undergraduates were employed and/or studying, amounting to 3,060 from a total of 3,195. This is the highest percentage since the figures began six years ago and above the current UK average of 94.6%.
As ever I will not be sending an email in August, so the next time you hear from me will be at the end of September. Until then I hope you enjoy the rest of this (so far) remarkable summer.
With best wishes
Colin Riordan
Vice-Chancellor
Read about our strategic direction and focus on research and innovation, education, international and engagement.