Vice-Chancellor's all-staff email – May 2018
31 May 2018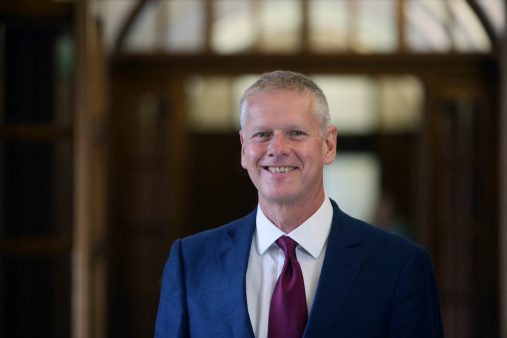 Dear colleague
Mixed news this month on league tables. Three 2018/19 rankings were published, none of them tables that we track to gauge our performance, but it is always worth reviewing what is happening. In the Complete University Guide 2019 we rose three places to be 33rd in the UK and the top university in Wales. In the Guardian we dropped to =58th place (sharing the spot with Kings College London, Brunel, SOAS and Kingston) from 42nd last year, and in the Centre for World University Rankings table we moved up to 131st in the world from 184th, of 18,000 universities measured. Some of these movements may be caused by changes in methodology (the Guardian has made some controversial changes for example), but it will take detailed analysis before we know more precisely whether there are useful indicators here. As I often say, it is important to take league tables with a pinch of salt, in relation both to the claims they make for themselves and what they say about us. We must not allow the University to be driven by them, but they are there for all to see, and it's important to understand how we fare under the various methodologies.
This month we learned a little more of the government's approach to negotiations over FP9 (Horizon Europe, the successor programme to Horizon 2020). I have mentioned before that there is goodwill on both sides to enable us to associate with the new programme from 2021 onwards, and the government has now been more specific than ever in stating that we are prepared to make a 'fair contribution' to the programme in financial terms in return for an appropriate measure of influence. It's important to be clear that this would not amount to cherry-picking; other countries that are not presently EU members take part in the programme in various capacities and to varying degrees, and our long-standing participation means that we have very strong existing links. It is to be hoped — in fact I would expect — that our standing as an internationally leading nation in terms of research, science and innovation would be a strong motivating factor for the Commission in reaching agreement on this matter. It is reasonable to expect an appropriate level of influence not only because of the amount of money we would be contributing — which will be substantial because the total the Commission is proposing is €97.6bn over the 7-year period — but because we have much to offer in the way of expertise and experience. Whatever the mechanism, it's critical that UK researchers, scientists and other science and innovation stakeholders have the opportunity to contribute to the thinking and to influence the decision-making in some way. In the meantime here in Cardiff it's great to see that under the Maria Skłodowska-Curie actions we have secured 11 Individual Fellowships, so we remain a very desirable destination for researchers from Europe and indeed globally. Our continuing close engagement with European research and science programmes will stand us in good stead if we do manage to secure association to Horizon Europe from 2021 onwards.
Continuing the research theme, I am delighted to say that we have appointed a new Pro Vice-Chancellor to succeed Professor Hywel Thomas from the beginning of the next academic year. Professor Kim Graham has been appointed Pro Vice-Chancellor for Research, Innovation and Enterprise, building on her excellent personal research record and valuable experience as Dean for Research in the College of Biomedical and Life Sciences. Congratulations to Kim and I look forward to welcoming her as part of the leadership team. On a similar note, recruitment for the a new Pro Vice-Chancellor and Head of the College of Arts, Humanities and Social Sciences is under way, and I hope to be able to make an appointment before the end of June so that there will be a seamless transition when Professor George Boyne leaves for his new role as Principal and Vice-Chancellor of the University of Aberdeen. As a consequence of Professor Boyne's departure I have asked Professor Rudolf Allemann to take over the role of Chair of the Recruitment and Admissions Strategy Group, holding responsibility and accountability for our student recruitment across the board. This is an extremely important role, given the importance of attracting the right applications for the right programmes in the right numbers.
It's also critical that when students are with us we give them the kind of support they have a right to expect. I would like to congratulate all the winners of this year's Enriching Student Life Awards, which recognise exceptional contribution to the student experience as nominated by the students themselves. There is huge commitment on the part of our staff to supporting our students and all those involved are to be commended. Finally, libraries are the foundations of study for many of our students and the service we provide is critical to success. It's therefore a pleasure to be able to offer warm congratulations to Ms Tracey Stanley from the University Library Services, who has been named Welsh Librarian of the Year.
With best wishes
Colin Riordan
Vice-Chancellor
Read about our strategic direction and focus on research and innovation, education, international and engagement.