UEB, 22 May 2017
22 May 2017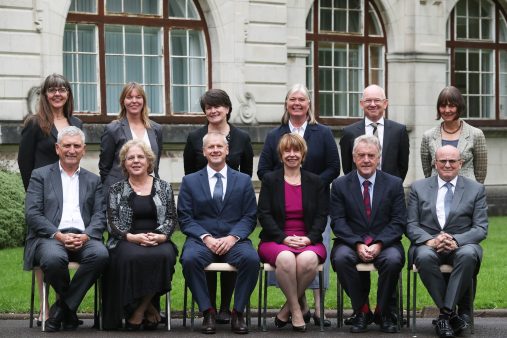 It was noted that Professor Luc Sels had been elected as the new Rector of KU Leuven from 1 August 2017, replacing Professor Rik Torfs.
Professor Dylan Foster-Evans had been appointed as the Head of the School of Welsh from 1 August 2017, succeeding Professor Sioned Davies who had held the headship for over 20 years.
Professor Gary Baxter, currently Head of Pharmacy and Pharmaceutical Sciences, will succeed Professor Jones as PVC of the College of Biomedical and Life Sciences College.
UEB received the University's response to the Office of the Independent Adjudicator (OIA) Good Practice Framework: Handling Complaints and Academic Appeals – Supporting Disabled Students which was agreed subject to some minor amendments.
UEB received the draft GW4 vision for research and innovation document. A number of comments were made on ways that could strengthen the document and these would be feedback to the GW4 vice-chancellors and the director.
UEB received and approved the University's draft to a Welsh Government consultation on Genomics for Precision Medicine Strategy.
UEB received the latest Brexit register for review.
UEB received the draft budget for 2017/18 and comment was made that the HEFCW sector settlement, as announced in the remit letter, would be very challenging.
UEB received the quarterly report on progress against targets. There had been no substantive changes since it was last reviewed and would now be presented to Policy and Resources Committee and Council for note.
UEB received a paper outlining the proposed the Outstanding Contribution Award Scheme for 2016/17. It was noted that the scheme was valued by staff and rewarded and recognised a significant number of staff who exceed expected standards, have been outstanding and worthy of particular recognition.  UEB agreed to the launch of the 2017 scheme as outlined.
UEB received the student application report. Professor Boyne and Ms Sanders would give a detailed presentation to UEB in June.
UEB received the Welsh Language Scheme annual monitoring report which highlighted progress and development against the University's Welsh Language Scheme requirements and provided statistical data as required by the Welsh Language Commissioner. UEB noted their ongoing commitment and support for the scheme.
UEB received the draft agendas for Policy and Resources Committee, Governance and Senate.
UEB received the following regular reports
Chief Operating Officer's monthly report
Deputy Vice-Chancellor monthly report
Innovation System update
External environment update
Research and innovation monthly update
Engagement activities monthly update
PVC College of Biomedical and Life Sciences monthly report
Read about our strategic direction and focus on research and innovation, education, international and engagement.