Celebrating talented women in Wales
23 March 2017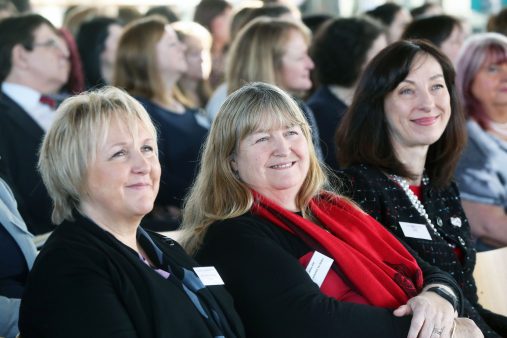 Last Monday's event at the Senedd, Cardiff was a truly inspiring day for women in STEM, with leaders from all levels in business, academia and government joining forces to tackle the issue of the lack of women in science, technology, engineering and maths in Wales.
Organised by the WISE campaign, and joined by HRH The Princess Royal, Julie James, Minister for Skills and Science, a panel of talented STEM women and girls from local schools – WISE's Celebration of Talented Women event offered discussion on the issues, ways of supporting this, highlights of work currently being done and collectively sharing good practice.
All our industry leaders give practical, thoughtful ideas, and questions from the audience sparked lively debate. As the Royal Patron of WISE, HRH The Princess Royal also met with local girls taking part in People Like Me sessions, which supports recruitment of girls into STEM subjects.
There was an enormous energy in the room to lead the change in culture that is required, and essential in enabling us to have truly inclusive working environments. The close of the event saw all involved make pledges to be a part of the change.
The report which provoked this event, Talented Women for a Successful Wales, was commissioned by Professor Julie Williams, Chief Scientific Advisor for Wales, and co-chaired by myself and Professor Hilary Lappin-Scott. All eight higher education institutions in Wales have now accepted the recommendations related to HE, and Welsh Government have accepted all 33 in the report, across all sectors.
Cardiff University has plans in place to encourage further recruitment and career progression for female academics, and already seven out of 12 executive board members are women, above average for top UK universities.
The University has also teamed up with WISE to examine our recruitment process through 'gender decoding', to ensure our adverts attract sufficient female candidates to apply for academic roles in Physical Sciences. The decoder looks at whether an advert is worded in a strongly masculine-, or feminine way, and puts itself at risk of discouraging women from applying.
International Women's Day
International Women's Day (8th March) was well supported throughout Cardiff University. The University's Women in Science (CWIS) Network organised a day of events, sponsored by EPSRC, aimed at postgraduate students and staff and with the motivation of helping them to develop their career in science. The day was structured through different sessions including those on raising their scientific profile, explaining science to a wider audience, and understanding unconscious bias.
Women@Cardiff was also launched, a photography exhibition featuring twelve new portraits of women individually nominated through the University's social media accounts, and which will exhibit later in the year in the VJ Gallery.
Read about our strategic direction and focus on research and innovation, education, international and engagement.