UEB, 30 January 2017
30 January 2017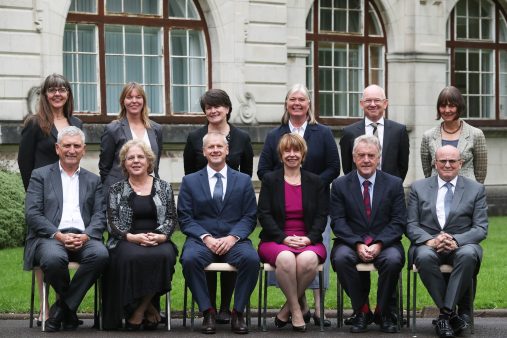 It was noted that the University had been successful in securing six Marie-Curie Action Research Fellowships, with four for the College of Physical Sciences and Engineering.
UEB received the report by the independent review panel, chaired by Professor Dinesh Bhugra, to look into issues of racial equality in School of Medicine. The recommendations would be worked through to bring together a formal action plan, led by the Equality & Diversity Committee, reporting through Governance Committee and Council.
UEB received an update of the data on the workload model across the Colleges and Schools. It was agreed that College PVC would remind Schools of the requirement to adhere to the broad parameters of the workload framework and not to make local adjustments.
UEB received and approved a paper outlining the costs for a reworked international scholarship package.
UEB received the draft response to the Welsh Government's consultation on student support arrangements from 2017/19, 'Student support funding for students ordinarily resident in Wales'. The draft response was endorsed and would be submitted by the deadline of 14 February 2017.
UEB received the final Teaching Excellence Framework narrative.
UEB received the full business case for the 'First Choice' programme, a proposal for the transformation of the University's approach to student recruitment. UEB agreed to approve the detailed business transformation programme to establish a new admissions operating model, an institutionally agreed and shared 'student recruitment and conversion framework' and the implementation of enabling technologies.
UEB received a paper on 2016-2019 Carbon Management Plan. It was noted that the University had committed to achieving a 20% reduction in carbon emissions by 2020 and, in order to deliver this commitment, it was proposed that the 2016-2019 Carbon Management Plan be funded from a Welsh Government invest2save interest free loan, utilising the savings to repay the loan.  It was agreed that the paper should come back to UEB with an assessment of the risks involved and the range of options of achieving cultural and behavioural change to enable savings to be made.
UEB received the draft agendas for Senate, Governance and Policy and Resources Committee.
UEB received the six monthly update from Safety and Staff Wellbeing.
UEB received briefing papers on the Industrial Strategy green paper and the Welsh Government's negotiating priorities for the Brexit process.
UEB received the following regular reports
Innovation Buildings and Public Realm update
Innovation System update
Research and innovation monthly update
Engagement activities monthly update
Read about our strategic direction and focus on research and innovation, education, international and engagement.