A day with Sir Mark Walport
1 July 2016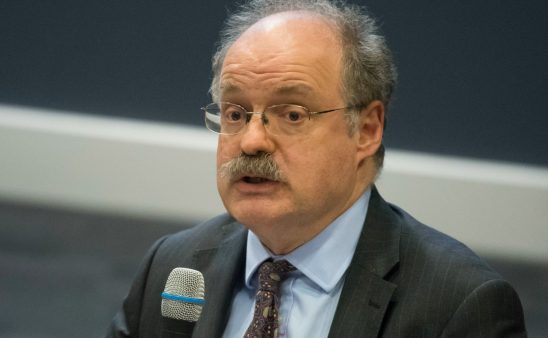 27 June saw the launch of the Cardiff Knowledge Hub of the Academia Europaea on the occasion of its 28th annual meeting and conference, which was held in the Hadyn Ellis Building.  The event was part of Cardiff's Summer of Innovation and brought together some of the brightest minds in Europe in the fields of humanities and sciences. The Academia operates through a network of regional knowledge hubs in Barcelona, Wroclaw, Bergen, and now Cardiff University. Professor Ole Petersen is the Academic Director of the Cardiff Knowledge Hub.
As you will have seen in Cardiff News, the occasion was also used to award the 2016 Erasmus Medal to Astronomer Royal Lord Martin Rees for his substantial contribution and achievements related to European science over a sustained period of time. He gave a spell-binding lecture, From Mars to the Multiverse.
A highlight of this year's conference was a debate on scientific advice mechanisms, which featured Sir Mark Walport, the UK's Chief Scientific Adviser, Professor Julie Williams, the Chief Scientific Adviser for Wales, and Patrick Child, Deputy Director-General at the Directorate of Research and Innovation, European Commission.
Sir Mark kindly agreed to stay on an extra day in Cardiff to find out more about our research in the fields of neuroscience, mental health, systems immunity and gravitational waves.  We had a morning of science presentations and debate, followed by an extensive tour of Cardiff University Brain Imaging Centre and its facilities.  The world-class quality of our research was remarked upon and we had some very useful advice. The morning's science debate was followed by a round table discussion on the Science and Innovation Audit, which involved also representatives from the Welsh Government.
We are really grateful to Sir Mark for the time he has given us to explore some of the work carried out at Cardiff, to discuss future advances in neuroscience and mental health and for the advice and guidance he has given us in relation to the Science and Innovation Audit.  As we are entering a rather challenging phase, it was good to be able to celebrate international research co-operation and to remind ourselves of the global challenges that face us all.
Read about our strategic direction and focus on research and innovation, education, international and engagement.