Science and Innovation Audit Success for GW4
22 March 2016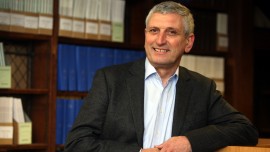 There was good news in last week's budget for the University, when Chancellor George Osbourne announced that a GW4-led consortium of businesses and organisations from across South East Wales and South West England had been selected to take part in the first wave of the Department for Business and Innovation and Skills' (BIS) Science and Innovation Audits (SIA).
The consortium comprises a wide-range of businesses from across the region, five Local Enterprise Partnerships (LEPs), 13 local authorities, universities, research organisations and catapults.
The 'South West England and South East Wales Science and Innovation Audit' will be driven by the GW4 Alliance. It is split into five main themes representing the strongest areas of research and innovation that already exist across the consortium.
They are:
Aerospace and Advanced Engineering
New Energy Systems
Next Generation Microelectronics
Digital Living Innovation Platform
Resilience, Environment & Sustainability.
During the coming months, BIS will provide the consortium with analytical support to help undertake the audits and provide essential and independent advice.
Jo Johnson, Minister for Universities and Science, created the SIAs in the summer of 2015 in an attempt to improve the UK's capability to identify and validate where existing and growing research excellence is coupled with emerging innovation strength. The aim of the SIAs is to build a robust and powerful evidence base, showing strong links between research organisations and businesses, which can underpin future investment decisions.
We will update staff on developments as we get further into the process.
Read about our strategic direction and focus on research and innovation, education, international and engagement.