Half Marathon excitement
3 March 2016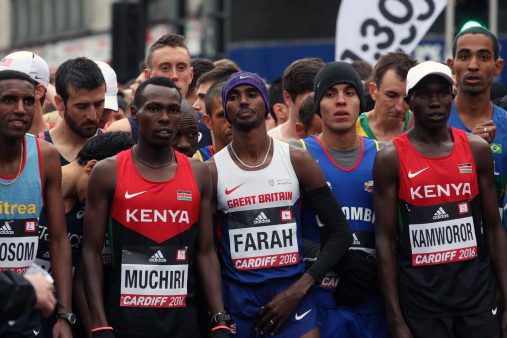 Registration for mass participants in the IAAF/Cardiff University World Half Marathon has re-opened today by popular demand following the announcement of the Great Britain team for the event.
The race, which will take place on Saturday 26 March, could be the largest athletics meeting in Wales since the 1958 Commonwealth Games. We have secured the title partnership, ensuring major visibility at this event which is broadcast all over the world on the BBC and is a chance for us to show off both our University and our city with the finish line directly outside our buildings.
The thousands of amateur runners, including the 200 staff, students and alumni members of Team Cardiff, will get the chance to run in the footsteps of champions. Mo Farah has been confirmed as the official event ambassador and Kenyan athletes Geoffrey Kamworor and Gladys Cherono will be amongst the 200 elite athletes expected to run.
Runners also have the opportunity to fundraise for three Cardiff University causes – student support, cancer research and dementia research. Over 30 runners have signed up to our JustGiving pages so far. Thank you!
Those not quite up to running the distance (myself included) can still join in. So far nearly 240 staff and students have signed up as official race volunteers to act as stewards, water distributors and marshalls at the start and finish. Cardiff University has also worked with the IAAF and Run4Wales to provide free entry places, clothing and training support to 500 inexperienced and first-time runners from some of our most disadvantaged communities. The places went within hours of being offered and we will follow the progress of some of these runners in the build up to the race and on the day.
With public health forming a major part of the work of both organisations, we have been busy promoting the benefits of a healthy, active lifestyle and a team from the School of Healthcare Sciences has been carrying out research to discover what motivates people to run. The findings should help organisers of mass races to attract a wider range of entries in the future. Those taking part in the study include the 500 first-time runners who are being offered advice on injury prevention and access to workshops run by Cardiff University Inspire Performance Sports and Exercise Physiotherapy Team. The research is aligned to the University's Transforming Communities programme, which works with communities in Cardiff, Wales and beyond in areas including health, education and wellbeing.
For all those running in the event, good luck with the training! It promises to be a fantastic day.
You can still take part by registering for the race here.
Read about our strategic direction and focus on research and innovation, education, international and engagement.