Vice-Chancellor's all-staff email – September 2015
30 September 2015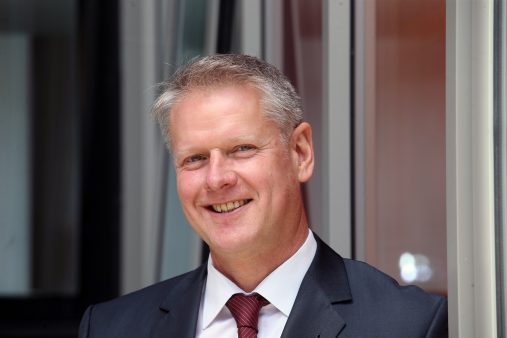 Dear colleague
I'd like to start this first email of the new academic year by warmly congratulating Professor Karen Holford on her election as a Fellow of the Royal Academy of Engineers. This is a signal honour and extremely well deserved. You will know that I work closely with Karen in her role as Pro-Vice-Chancellor of the College of Physical Sciences and Engineering, and I know what an outstanding role model she is; I'm sure that this achievement will inspire others and act as a beacon both within and beyond the University.
It's been a good summer in other ways too. I was very pleased to see that we've made real progress in the National Student Survey. We now have 17 of our 24 Schools achieving over 90% for overall satisfaction, up from 12 last year, and 4 achieving over 80% for assessment and feedback, up from 1 last year. I'm looking forward to reporting to Council that all the effort and team work of colleagues in the Schools and Professional Services and the dedication and leadership of Professor Patricia Price are really paying dividends and helping us to move towards achieving the ambitious goals we set out in The Way Forward. The news on league table positions has been more mixed; in the QS World University Rankings we rose one more place to 122nd, which still compares well to 143rd in 2012 at the start of The Way Forward period. However, in the Times league table we fell six places to 33rd which, while still ahead of our 35th place in 2012, is not where we would want to be at this stage. The main reasons for losing ground were completion rates and student-staff ratios, both of which we can and will do something about. Although we further increased our spend per student, so did others, with the result that we lost ground there too. There was very little difference on the research measure, but both graduate prospects and the proportion of 1st and 2:1 degree results were down. Where we did do better was on UCAS tariff which is good news. We will be looking closely at all these measures and taking corrective action in the hope that next year we'll see an improvement as we did last time. To finish this topic on a positive note, I'm pleased to be able to announce that we have risen 26 places in the Times Higher Education rankings to 182nd in the world. This improvement is largely to do with a change of methodology relating to citation rates but it is gratifying that our research success is recognised in this way, even if we have not been targeting the Times Higher rankings specifically. There is also a practical benefit in that a top-200 position is helpful in terms of the ability of some international students to secure scholarships to study at Cardiff.
Some of you may have attended one of the all-staff addresses I gave earlier this month. I don't want to reiterate everything I said at them (if you're interested you can see the video here), but it's worth mentioning that we are once again moving into a period of real uncertainty. The Department of Business, Innovation and Skills (BIS) in Westminster is proposing to publish a Green Paper during the course of the autumn (this is a consultation document that precedes legislation) which will set out some options for the creation of a Teaching Excellence Framework (TEF) for English universities. While these proposals will not affect Wales directly, we will clearly have to adapt in some way to what happens across the border since that is where much of the competition is. There will doubtless be other proposals that affect the higher education landscape in England, and probably the research landscape in the UK, which will affect us directly. Reform of the research councils seems a possibility, for example. On 25 November the chancellor, George Osborne, will announce the results of the Comprehensive Spending Review that is being conducted now. There is a real possibility that the outcome could be significant reductions in funding for English universities both in terms of teaching and of research, which would have consequences for the amount of money the Welsh Government receives from Westminster in turn. There are other sources of uncertainty too; the Diamond review of fees and funding here in Wales, now joined by a review of regulatory arrangements led by Professor Ellen Hazelkorn will both have outcomes that we cannot yet determine. The results of the consultation on quality assurance arrangements being led by the Higher Education Funding Council for England has not yet been published. It is difficult to say what, if any, effect the election of Jeremy Corbyn will have on the Welsh Assembly elections next May, though a poll carried out by our own Wales Governance Centre indicates an apparent boost in support for Labour in Wales. There are many variables here and all we can say for sure is that there is likely to be big change in the sector in the coming year – though it will affect England more than Wales –and the outlook in terms of government funding is not looking positive.
However, I'm pleased to say that we at Cardiff are attracting positive attention. Earlier in the month we were chosen to host a visit from the Chinese Vice-Premier, Liu Yandong, which gave us the opportunity to sign three academic agreements witnessed by Mrs Liu and First Minister Carwyn Jones. The visit went very well and was a wonderful opportunity to improve further both our international profile and our standing within Wales. Last week we hosted the Minister for Universities and Science, Jo Johnson, who seemed to enjoy visiting the Cardiff Catalysis Institute, Cardiff University Brain Research Imaging Centre (CUBRIC) and the Morgan-Botti Lightning laboratory, where he got the chance to press the button setting off a 200,000 amp bolt of lightning in a demonstration of the laboratory's research. I was able to discuss a number of important issues with Mr Johnson and was particularly pleased to be able to press home the point that although Education is a devolved matter, the research councils and many other research matters are not; policy made in BIS on matters such as the research councils affects us directly too. Issues such as postgraduate loans, TEF and the dual funding system for research have an indirect impact on Wales, so it's important to keep lines of communication to Westminster open. Having said that, we remain grateful for the supportive approach to research of the Welsh Government through schemes like Sêr Cymru and through their support for CUBRIC and the Compound Semiconductor Centre (the joint venture with IQE that I mentioned last time). At the very end of the month we launched our new University Research Institutes in the Pierhead Building, with the support of the Minister for Economy, Science and Transport, Mrs Edwina Hart, who sponsored the event in recognition of the close working between the Welsh Government and the University in promoting scientific excellence. All these events are critical in ensuring that our excellent REF result, and our research profile more generally, are known about and appreciated as widely as possible.
I'm hopeful that despite the uncertainties outlined earlier in this mail, the coming academic year will be an exciting and successful one for the University. I expect to host more high-profile visits but there will be a particular focus this year on reviewing and renewing our strategy. I'll talk more about the process for that in my next email.
With best wishes
Colin Riordan
Vice-Chancellor
Read about our strategic direction and focus on research and innovation, education, international and engagement.