Ingenious interdisciplinary science
27 November 2014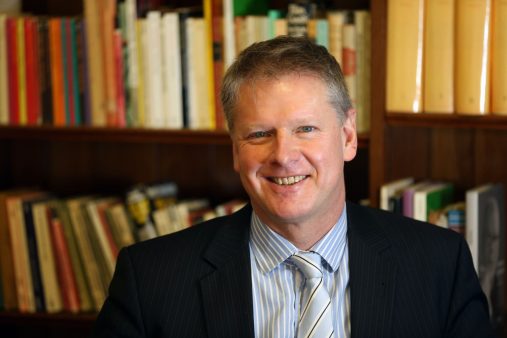 As often as I can make visits to different parts of the University to meet people and inform myself about what we do and what actually happens on the ground. This can be in the Professional Services or in the academic Schools; there are enthusiastic, creative people and fascinating projects happening all over the University. Often these visits are as a result of people writing to me to make me aware of important or interesting work, or perhaps I find something out by a chance conversation or am browsing the internet and see something worth following up. That's how I found myself visiting the lab of Dr Kelly Bérubé, who won the 2013 Lush Science prize for research that replaces the use of animals with alternative methods.
Kelly is the Director of the Lung and Particle Research Group in the School of Biosciences, and with her small team she has developed a remarkable methodology for determining the effects of inhaled nano-particles – air pollutants – on the human lung. Traditionally these experiments are carried out using rats, which has a number of disadvantages. Quite apart from the effect on the rats themselves, the mechanisms involved have to be extrapolated from rats to people, and the cost of using 'animal models' as the terminology has it, is very high.
What Kelly's group has done is to build on the work of group-member Dr Zoe Prytherch to create models of the inner surfaces of the human lung using stem cells from lung tissue. In partnership with Dr Tim Jones of the School of Earth and Ocean Sciences they collect samples of atmospheric pollutants at the nano scale – the nastiest kind – and determine the mechanisms of the damaging interaction between these ultra-tiny particles and cultured human tissue. By comparison with other methods – including other approaches to using human cells – this is a cheap and very effective way of studying the precise mechanisms underlying the massive health problems that arise from air pollution. Nobody who has been to China or other parts of Asia in recent years will be surprised to learn that the work of the Lung and Particle Research Group is arousing interest there, but this is an issue for the whole world. If you're interested to learn more you can look here. There are promising avenues for future research; using different types of human tissue (liver or heart for example) in combination, to study more complex mechanisms. This project struck me as ingenious interdisciplinary science that is addressing a critical problem – set of problems – facing humanity in the future, and it's happening here in Cardiff with little fanfare.
Read about our strategic direction and focus on research and innovation, education, international and engagement.