Welsh launch of the GW4 alliance
25 November 2014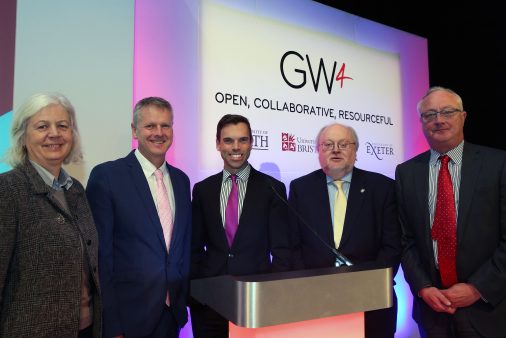 This evening we held the Welsh launch of the GW4 alliance in the Wales Millennium Centre.  University staff were joined by Mr Ken Skates (Welsh Government Deputy Minister for Culture, Sport and Tourism), Professor Sir Eric Thomas (Vice-Chancellor, University of Bristol), Professor Jane Millar (Pro Vice-Chancellor for Research, University of Bath), Professor Sir Steve Smith (Vice-Chancellor, University of Exeter) as well as guest from industry, government and academia.  Included in the guest list were some of GW4's Doctoral Training Partnership students who are not only the future of industry and academia they also represent an early indication of the success of the alliance.
The Vice-Chancellor opened the evening with a speech outlining the importance of collaboration, the combined power of the four universities and what the alliance can bring to Wales and the South West.  Sir Steve Smith followed and gave a very engaging speech on the importance of maintaining well-funded universities in the UK in order to generate economic growth and provide the necessary skills for the future knowledge-based economy.  All four of the GW4 universities are in agreement that the only way to do this is through collaboration – hence the birth of GW4.  Finally, the minister formerly launched the alliance with an extremely supportive speech.  Mr Skates clearly understands the importance of universities and the role they play in a healthy, wealthy economy.  He even tweeted what an honour it was to launch the alliance – an 'exciting collaboration … to deliver world-class research'.
Read about our strategic direction and focus on research and innovation, education, international and engagement.