UEB 3 November 2014
3 November 2014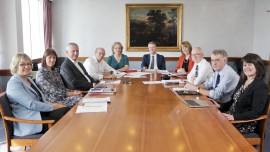 UEB received a paper on the REF Results Planning.  It was noted that on 16 December 2014, REF institutional results and contextual, comparative data would be received and, using business intelligence tools, the Planning Department would manage the limited data set which would allow benchmarking against the average for each UoA and quartile analysis for each UoA and the University, with Schools and Colleges able to access that data at the earliest opportunity.  That after midnight on 18 December 2014 the results would be published in the Times Higher and on the HEFCE website with the Cardiff REF results webpages to go live.
UEB received the following regular reports
Chief Operating Officer's Monthly Report
University Change Portfolio Dashboard – October 2014
Estates Project Update
College of Arts, Humanities & Social Sciences Update October 2014
Forward Planning Document November-December 2014
Read about our strategic direction and focus on research and innovation, education, international and engagement.