The public sector pay bill in Wales
24 June 2019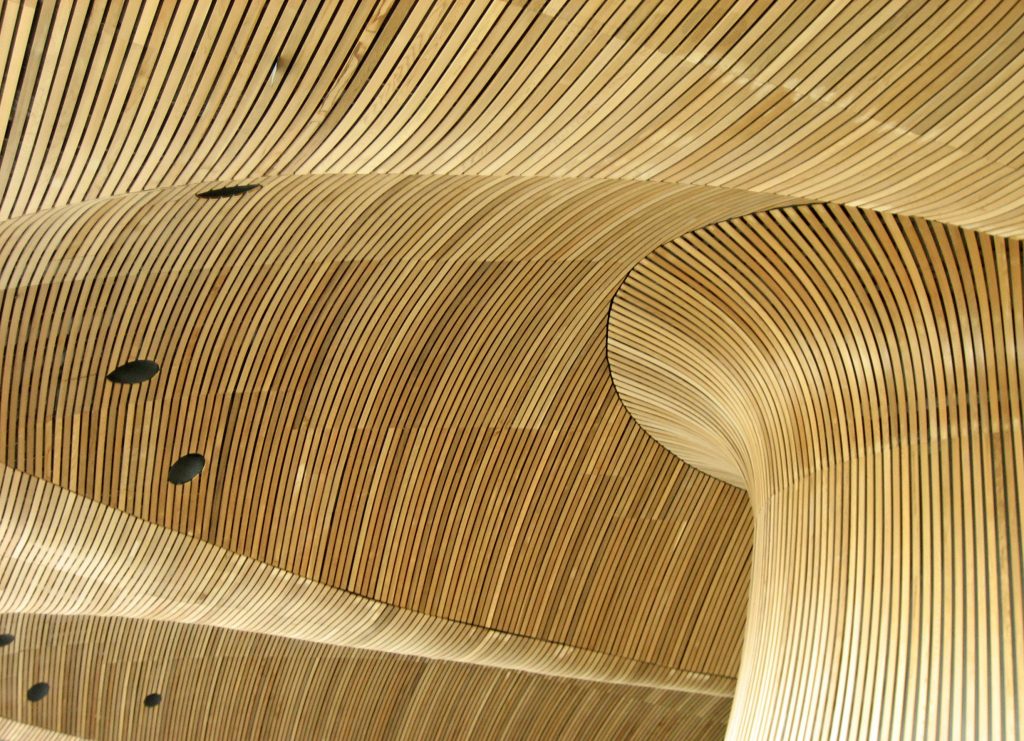 The public sector in Wales
When economists and politicians talk about the public sector, they are referring to the part of the economy that is owned, funded or run by central or local government. This includes all levels of government administration, publicly-funded health and social care, social security, education, defence and policing.
Wales has historically had a relatively large share of its workforce in public sector employment. As traditional industries declined, the NHS and local government became increasingly important employers. This was accompanied by the relocation of several large UK government agencies to Wales, including the DVLA to Swansea, ONS to Newport and Companies House to Cardiff — one of the reasons why Wales has a higher ratio of civil servants per member of population than London at 105 in every 10,000.
Although the share of the Welsh workforce employed in the public sector has been consistently higher than the UK level for several decades, both figures currently stand at an historic low – 20.0% in Wales and 16.6% for the UK as a whole.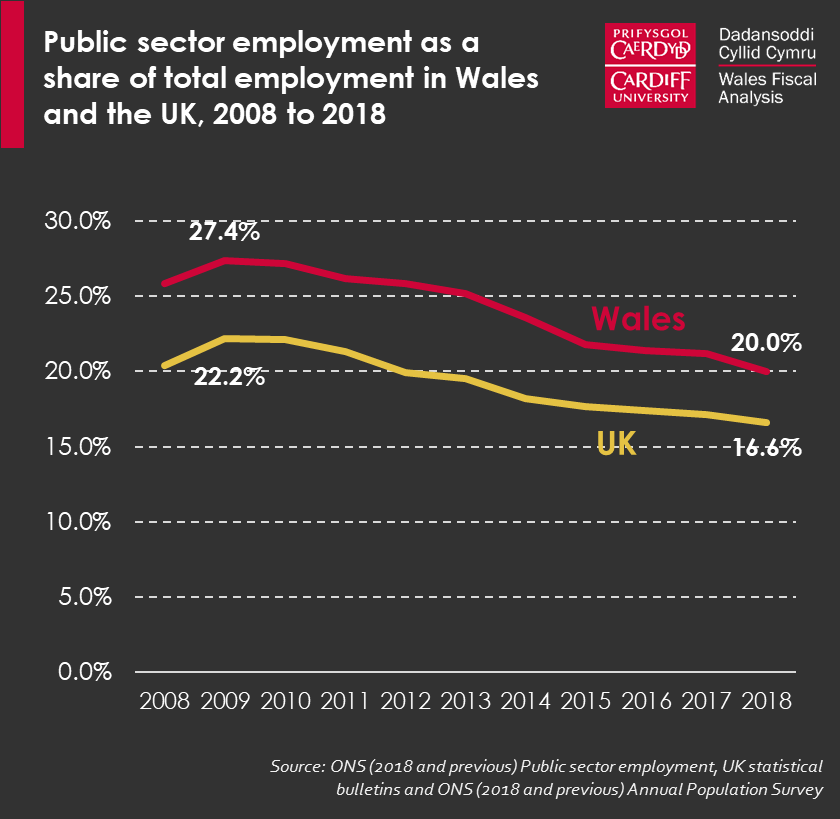 Estimating the pay bill
We estimate that in 2017-18, the Welsh Government and local authorities' public sector pay bill (i.e. excluding reserved functions) amounted to £7.83 billion.
Click on individual blocks to reveal more details on areas of the pay bill. Hover / tap-and-hold to reveal employee costs for each function.
By far the two largest components of employee costs in 2017-18 were the NHS at £3.63 billion (46.3%) and local authorities at £3.55 billion (45.4%).
Teachers and other school staff are included on local authorities' pay roll. Collectively they account for 58.5% of local authorities' employee costs or 26.5% of the total public sector wage bill. Education-related employee costs have fallen by £69.4 million (3.2%) in real-terms since 2009-10 whereas other local authority employee costs have fallen by £134.9 million (8.2%).
Historically, local authorities have accounted for the largest share of the public sector pay bill in Wales. In 2009-10, local authorities' employee costs were £430 million higher than in the NHS. However, cuts in central government support to local authorities and real-terms increases to the NHS budget since 2013-14 meant that in 2016-17, the NHS overtook local government as the largest component of the pay bill.
Despite this, local government remains the largest public sector employer in Wales, employing 152,000 workers as of September 2017.
In addition to NHS Wales and local authorities, the public sector pay bill includes the employee costs of Welsh Government staff and large subsidiaries (£337.9 million), Welsh Government sponsored public bodies (£140.3 million), three fire and rescue services (£116.5 million), various scrutiny bodies and Commissioners (£71.3 million) and three national parks (£12.3 million).
Outlook for the future
Looking into the future, pension contributions are set to continue being a source of pressure on the public sector pay bill. Following a decision by the UK government, employer contributions to the public service pension schemes have increased from 2019. The Welsh Government recently announced a package of additional funding for local authorities to meet pension contribution costs for teachers, firefighters and other public sector employees in 2019-20. However, in the medium to long-term, these pressures are unlikely to go away.
An increasing Welsh budget over coming years will broadly enable the Welsh Government to meet the increased costs associated with the end of public sector pay cap. The UK government's indicative spending plans suggests that day-to-day resource spending will increase by around 3.3% a year (in nominal terms) to 2023-24.
However, the employee cost pressures are likely to be more acute for some public services (outside of NHS spending). The challenge may be reduced if higher pay influences the quality and productivity of the workforce, which would mean fewer workers and non-labour inputs required to deliver public services.
The devolution of further powers to the Welsh Government, including responsibility for teachers' pay and conditions and the introduction of a Welsh rate of Income Tax from April 2019 onwards mean that the public sector pay bill, the Welsh workforce and, by extension, the Welsh tax base have become increasingly salient topics in recent years.
Ultimately, trends in Welsh public sector earnings will have a direct impact on cost pressures on the Welsh budget and the relative performance of the devolved tax base. This makes it more important than ever to look at trends in the public sector workforce in Wales.
Breakdown of the Welsh pay bill by key pay-determining bodies

Items shaded red are devolved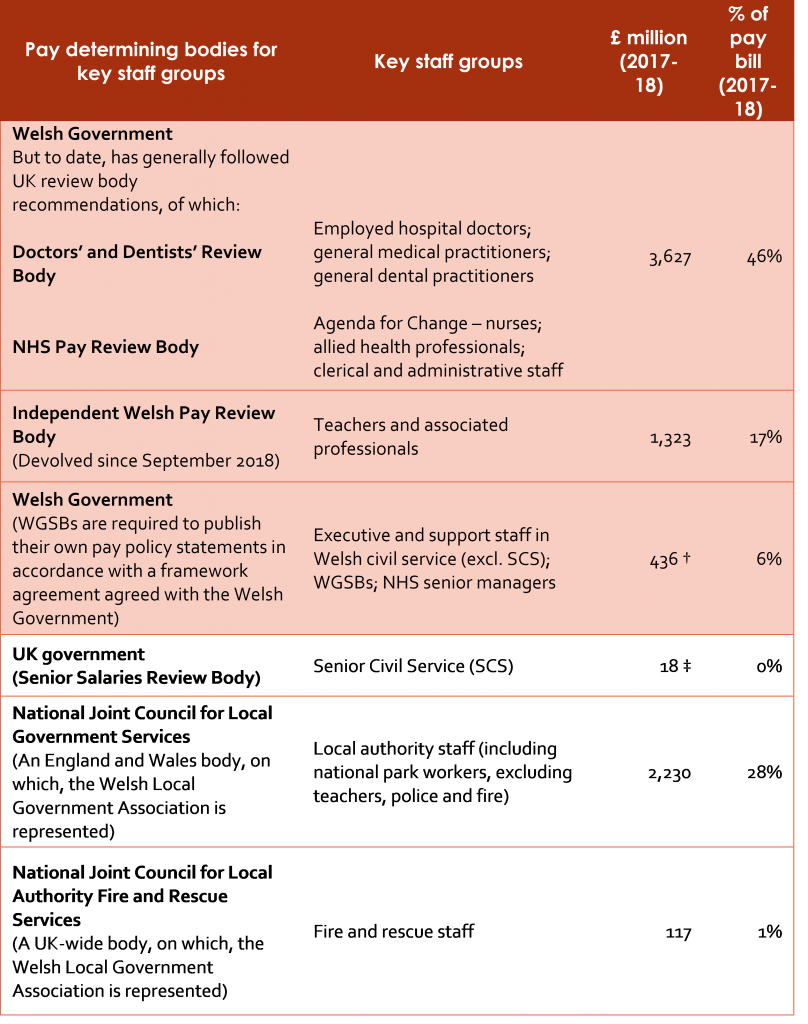 ---
The Wales Fiscal Analysis team has recently produced a short report examining trends in the public sector workforce and pay bill in Wales. The full report is available for download here.
Join 35 other subscribers