sbarc|spark opens new doors
24 March 2022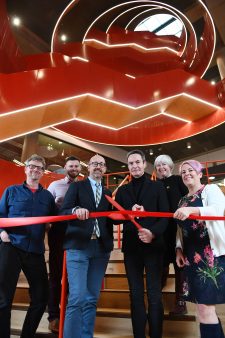 A new flagship centre where ideas ignite invention has opened its doors. sbarc|spark – Cardiff's #HomeofInnovation – brings together researchers, entrepreneurs, student start-ups and academic spinouts in a state-of-the-art building at the heart of Cardiff Innovation Campus.
Featuring collaborative working spaces, a visualisation centre, auditorium and fabrication lab, the hub provides the seedbed in which Wales can nurture and grow tomorrow's big ideas as the UK recovers from the COVID-19 pandemic, with dedicated space for student entrepreneurs. Here, researchers from Social Science Research Park (SPARK) groups share thoughts on their move to a new home.
Professor Sally Power, WISERD.
"WISERD@Cardiff is very excited about the prospect of moving into sbarc|spark. As a partnership between five universities – Aberystwyth, Bangor, Cardiff, South Wales and Swansea – WISERD already demonstrates the benefits of interdisciplinary working.
"SPARK will add another dimension to our collaborations. It will enable us to develop new synergies with different researchers, with different specialisms, and in different fields. It will provide state-of-the-art facilities that will support data collection and analysis, as well as access to networks of influence that will maximise the reach and impact of our research. In short, SPARK will enable Wales to stand at the forefront of social science."
Dr Jeremy Segrott, Senior Lecturer, DECIPHER.
"Aside from the 'sparkling' new building and the café (!), what I am looking forward to most is the opportunity to make connections and create collaborations with people from the different centres that will be based in SPARK. For example, the various centres bring rich and diverse experience in public involvement. I am excited about the chance to learn from others about how they do this work and develop ways of working which capitalise on this sharing of experience.
"Perhaps my expectation of SPARK is similar to the benefits of attending academic conferences – you meet people and learn things you might otherwise not have done. It helps you to grow as a researcher and gives your work fresh perspectives and insight."
Dr Stuart Capstick, Deputy Director, CAST.
"Most of CAST's work is cross-disciplinary and focussed on developing a broad range of responses to the climate crisis. For this reason, the move to SPARK presents an enticing range of opportunities.
We have already begun to collaborate with the Data Science Academy, to explore new ways to analyse, understand and visualise data from public perceptions surveys. We have been in conversation with DECIPHER about how we can benefit from sharing the resources and insights from their young people's advisory panel, in order that CAST's research programme and outreach reflects their interests, and we are also looking at how CAST and Y Lab could collaborate and share ideas in relation to city-level action on decarbonisation.
The opportunity for all Cardiff-based CAST staff to work together in a shared part of the SPARK building will also enable our own research group to continue to develop a coherence and shared identity, and to benefit from the facilities and innovations of the building."
Professor Alun Preece, Co-Director, Crime and Security Research Institute
"Having been involved in the SPARK initiative almost since its inception, it's hard to believe we're moving into our new physical home at long last! As a computer scientist who's worked closely with social scientists for over 15 years, I see the potential for collaboration across the disciplines offered by the new spaces in sbarc as being truly transformational.
"We've known for a long time that the hardest 'wicked' problems of the world require interdisciplinary solutions. In my field, technology obviously has much to offer – including recent advances in data science and machine learning – but technology needs to be blended and harnessed with human insight and expertise. Knowledge sharing and co-creation are key to making this happen, and many of us moving into SPARK see the facilities and environment as significant enablers for these collaborative processes.
"The new generation of researchers we bring into SPARK – including our talented students and early-career researchers – will "grow up" with a deep appreciation of the benefits of working across disciplinary boundaries and with problem owners. I can hardly wait to "scale up" what's worked well for us in CSRI into the vastly larger SPARK space!
If you'd like to visit us to find out more, please get in touch.
sbarc|spark is located on Cardiff Innovation Campus, Maindy Road, Cardiff, CF24 4HQ.
Email: SPARK@Cardiff.ac.uk
Tel: +44 (0)29 225 12360