ICS Clean Room open for business
15 April 2023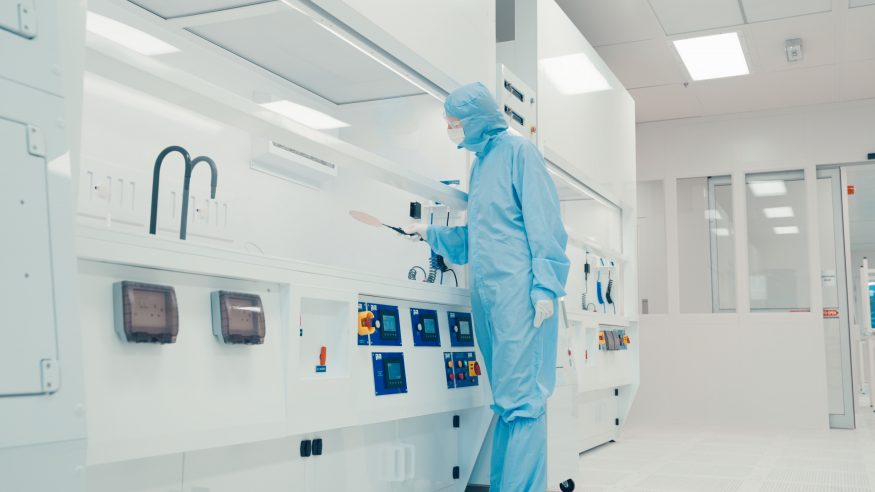 Solutions for industry under one roof 
Bringing industry and academia together to produce new products and processes can prove challenging. The Institute for Compound Semiconductors' state-of-the-art cleanroom attempts to bridge the gap between research and industrial scale-up. Professor Peter Smowton explains how the ERDF-funded facility can offer end-to-end CS business solutions for tomorrow's technologies.  
"The Institute for Compound Semiconductors cleanroom is open for business. It's where we work hand-in-hand with industry to trial as yet undreamt future technologies.    
Compound semiconductors can produce performance beyond silicon. As 'compounds' of elements either side of those in group IV of the periodic table, they are 100 times faster than silicon, and can emit and sense light, all the way from the infrared, through the visible and into the ultra-violet part of the spectrum. 
Funded by the ERDF, our purpose built 1500m2 facility enables us to scale-up production of Compound Semiconductor chips to a 150mm and 200mm (8") wafer capacity, critical for industrial relevance. 
With support from both the EPSRC and the Welsh Government via European Regional Development Funds, the ICS has invested in new tooling to provide a wide range of processing options. This ensures we can deliver a flexible service to meet the widest possible range of fabrication demands in terms of materials, geometries and scale from small pieces to 200mm wafers. 
Overall, ICS has received over £30m in funding for the new building and equipment. In addition to the 1,500 square metre cleanroom, a dedicated characterisation room and back-end processing areas enables the ICS to process wafers up to 8-inches in diameter and expand its range of industry-standard services.  
The cleanroom forms a key part of Cardiff's Innovation Campus, which combines research, technology transfer, business development and student enterprise.  The ICS itself is based in the Translational Research Hub next to the cleanroom, which will be formally launched to stakeholders next month.  
The Hub offers new office accommodation, shared, interactive working zones, laboratories, and breakout spaces. The TRH is designed to bring researchers and industry professionals closer together, creating a working environment that attracts and retains talented researchers.  
ICS will share the Innovation Campus at Maindy Road with Cardiff Catalysis Institute, the Social Science Research Park (SPARK), and Cardiff innovations@sbarc, a creative base for start-ups and spinouts.   
CS technologies have already complimented silicon in areas such as wireless communications, where chips made from material combinations such as gallium and arsenic (gallium arsenide, or GaAs) are found in virtually every smartphone, enabling high speed, high efficiency wireless communications in cellular and WiFi networks.  
As our last pieces of kit for fabricating CS devices are installed in ICS, our doors are open and we are ready to do business. Get in touch and talk to us about working together in future." 
Professor Peter Smowton – smowtonpm@cardiff.ac.uk  
Managing Director, Institute for Compound Semiconductors