Catalyst for Collaboration
20 October 2022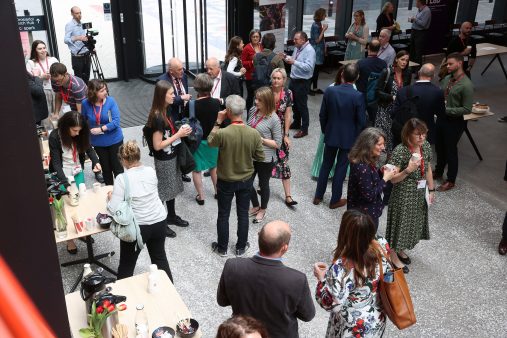 How did the world's first social science research park evolve? In extracts from a piece first published by Breakthrough – the UK Science Park Association magazine – sbarc|spark operations director Sally O'Connor charts the evolution of SPARK.
The first university-based research park was created more than 70 years ago, when an academic institution heavy in assets, but light on finance, decided that developing land for R&D uses could transform its fortunes.
Stanford Research Park immediately succeeded in attracting numerous technology pioneers, later became the catalyst for Silicon Valley and the companies currently based on its sprawling 700-acre campus include Tesla Motors, Hewlett-Packard and VMware Inc.
A very sizeable scheme by UK standards, sbarc|spark is a £60m project with 12,000 sq ft of space spread across seven floors, including 2,800 sq ft of commercial units.
Its most spectacular feature is a sculptural staircase which rises through the full height of the building and was designed to encourage social interaction between tenants.
"Collaboration is a core element of SPARK, so we have breakout zones at each level to encourage people who would simply pass each other by in a traditional building to talk and discuss their projects," says Sally.
"We were determined to eradicate the old 'pigeonhole' approach within social sciences, so this building was designed to stimulate conversations and integration, and we worked closely with colleagues from other areas of the university to develop the model.
"The community we are building here will have a shared vision to deliver benefits for the university, the city, the public and the Welsh economy. This is not a 'build it and they will come' approach."
SPARK houses academics, researchers, students and other staff, and external organisations from the public, private and the third sectors.
At its heart are some of the university's leading social science research centres, with expertise in policy innovation, education, public health improvement, civil society, economic analysis, crime and security, public service innovation, social care and public policy.
Alongside research centres are tenants and members from the public, private and third sector – all co-located to help identify solutions to complex societal challenges.
Cardiff Innovations, with the people and facilities to turn great ideas into growth across Wales and beyond,  is the focal point for the fostering and development of industry partnerships in the sbarc|spark building.
Comprising 17,500 sq.ft of dedicated space spread across 4 floors, Cardiff Innovations@sbarc is equipped with lettable office space from 226sq.ft to 1163 sq.ft, formal and informal meeting areas, high-end conference facilities, 4240sq.ft of wet lab space and joint exhibition/presentation areas including conference space for up to 200 people.
SPARK also provides a hub to help advance areas of research expertise in cyber security, fin-tech, med-tech, data science, digital transformation and behavioural science. It's very much a concept conceived, developed and delivered in Wales.
"Long before construction began, we all spent a great deal time thinking about the ways in which creative collaboration could happen here, and the best physical environment in which to help it happen," says O'Connor.
"We wanted to ensure we had the right people in the right spaces, and because SPARK has been designed to create public-private partnerships, the co-location of tenants was also key. It's not a 'build it and they will come' approach."
For all the parallels with the Stanford vision, the catalyst for SPARK was very much of the digital era.
"The idea came from a blog by Adam Price, who is now the leader of Plaid Cymru, but at the time worked for the London-based innovation agency, Nesta," recalls O'Connor.
He co-authored a pioneering report on the challenges which Wales faced, and how innovation might be driven into its economy.
Price's keynote idea was that specialist space could be built to co-locate social scientists with researchers from other sectors, external researchers and collaborators from the private, public and third sectors. His theory was that such interactions would deliver new insights into public policy and the provision of services, creating the foundations for economic, public and social innovation.
"Adam wrote a blog on the subject, which was picked up by academics at CBS who engaged with him on Twitter," says O'Connor. "The Vice-Chancellor became involved and realised that Cardiff had under-invested in new research space by comparison with other major universities, but also acknowledged that Cardiff was nationally leading in its social science research."
Asking O'Connor to identify a tenant which especially enthuses her is like asking a youngster which Christmas Day gift they preferred, but she does highlight the presence of RemakerSpace, headed by Professor Aris Syntetos.
"It was developed by the university's PARC Institute to deliver workshops, training and mentoring which will help the community and local businesses discover the benefits of the circular economy," she says.
"The Welsh government gave us £600,000 to fund the project, and I'm sure the logic of re-manufacturing and repairing products will be immediately appealing, particularly given the cost-of-living challenges which are currently impacting so many people."
It felt so right that when SPARK announced that its first tenant would be Bipsync – a tenant of Cardiff Innovations. The US fin-tech enterprise, which designs research management software, is now headquartered in New York, but was founded at the US university back in 2013.
Perhaps even the founding force behind Silicon Valley can learn something from O'Connor and her colleagues at SPARK.
To discover more about sbarc|spark, visit: www.cardiff.ac.uk/social-science-research-park/about-us    
The full version of this blog first appeared in Issue 17 of Breakthrough, pages 20-22.