ClwstwrVerse – exploring media innovation in Cardiff'
24 June 2022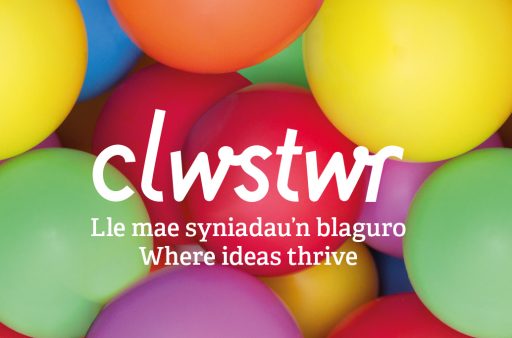 Lee Walters, Programme Manager for Clwstwr, invites you into the ClwstwrVerse.
For anyone living and working in the Cardiff area it can seem barely a day goes by that you don't encounter a film or television crew taking advantage of the talent and enviable locations on our doorstep. Indeed, the eagle-eyed among you will have spotted Cardiff University's unique architecture playing a role in hit shows from Doctor Who to Sherlock to Requiem. It really can appear that Cardiff can play a backdrop to anywhere…even outer space!
But it is more than just the sight of location vehicles and production staff in high-vis tabards scattered throughout the city that point to the vibrancy of the sector, a 2021 report into the creative industries concluded that the Cardiff Capital Region is now the third biggest producer of film and television outside of London and Manchester.  And the stats keep coming, by 2019 one in seven company jobs in Cardiff were part of a creative sector made up of 4,600 enterprises. A compelling story of strength and growth if ever there was one.
It would, of course, be remiss to rest on our laurels and the Creative Economy Unit at Cardiff University has been keen to ensure that the progress made within the sector is built upon, developed and championed. As with any industry, the key to surviving and thriving is to evolve and innovate, and as such, we have recognised the vital role that research and development (R&D) can play in enabling our enterprises to compete with the multi-national Goliaths of the sector.
We were therefore delighted, when in 2018, the Creative Industries Clusters Programme – part of the UK Government's Industrial Strategy Fund – chose Cardiff as one of nine creative clusters across the UK.
This £10 million programme set out to work with the screen and news sectors to put R&D at the core of media production, cultivating an environment for ideas to thrive.  Since then, Clwstwr has supported 118 projects working with 85 companies to bring their ideas to life.
In 2023, the Clwstwr programme comes to a close, and so this summer we will be recognising and celebrating the output from all the work undertaken with a two-day showcasing event – ClwstwrVerse.
And we would love you to join us.
City Hall, Cardiff will play host to a day crammed full of demos, talks and experiences to enjoy on Monday, 4 July. This is an opportunity to meet the talented creatives behind the innovative new products, services and experiences on display. There will also be talks about media innovation taking place locally, nationally and beyond.
You can hear from Greg Reed, Vice President of Technology Partnerships and Innovation, at Universal Pictures on Web 3.0 and the metaverse. Cardiff-based creative studio Painting Practice will take you through how they developed Plan V – their revolutionary virtual production film making tool and used it on His Dark Materials. There are sessions on greening the screen and lessons from Black Lives Matter. Plus, experiences and demonstrations to test and try, including Hissing Currents live user testing experiment.
Discover more about the programme for the day and book your space here.
On Tuesday, 5 July we will be bringing together Clwstwr projects, international partners, funders and policymakers for a dedicated day of research sharing and collaboration building at Cardiff University's new innovation facility sbarc|spark.
You can enjoy spotlights from a variety of Clwstwr projects in the visualisation suite and hear talks on working internationally and clustering in the creative industries.
You can find out more information and book a space here.
Developing and championing the creative sector doesn't end with Clwstwr. This work will continue and evolve through the Creative Economy Unit's brand new programme media.cymru. There is much to say on this, but that may be a blog for another day.