Stacks of innovation 
8 March 2021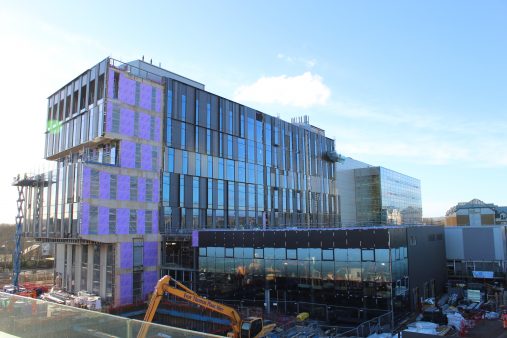 Another milestone has been reached on Cardiff Innovation Campus with the installation of the final aluminium flue stacks on the roof of the Central Utility Building (CUB). 
Part of the Translational Research Hub (TRH), the CUB contains plant rooms that will drive innovation across labs inside the building. 
TRH will be home to two centres for world-leading science – the Institute for Compound Semiconductors and Cardiff Catalysis Institute. Labs inside the building are currently being fitted out.  
Topped out in 2020, the TRH also boasts an adjacent microscopy unit – which will be used by both institutes, Cardiff University schools and industry collaborators. A jack slab has been fitted – part of a revolutionary 'floating floor' design which will absorb any vibration which could disrupt microscopic accuracy.   
Next door, a Clean Room – where flooring has just been fitted – will partner with CSconnected and other industry partners to develop tomorrow's semiconductor chips for use in electric vehicles, AI, and 5G applications. 
Across the Campus, labs are being fitting out in the sbarc | spark building. The future home of SPARK – the Social Science Research Park – is due to be open this autumn. 
Cladding and door glazing is currently being added to the Event Space at the front of sbarc, and roof lights are about to be fitted. Labs are being fitted out inside sbarc, where social science researchers and collaborators will be able to test and trial solutions to societal problems.  
Drainage and services are now being installed around the site, and the first phase of landscaping works is due to commence in March.  
The Campus as a whole is expected to be formally opened in 2022.