Driving successful graduate careers
10 December 2020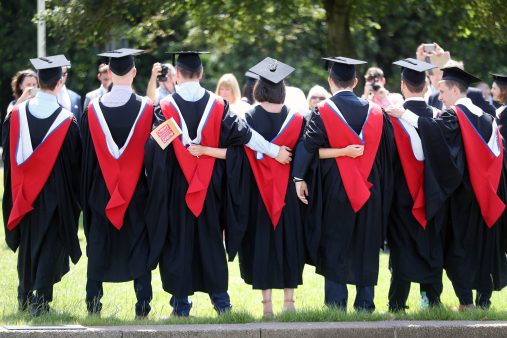 Even before 2020, there was growing uncertainty over young people's career prospects. The COVID-19 pandemic accelerated that concern – and spurred the hunt for solutions. In the latest Home of Innovation blog, the Edge Foundation (Edge) summarises a recent symposium on employability in higher education chaired by Professor Colin Riordan, President and Vice-Chancellor of Cardiff University and Edge Trustee. 
Three exciting pieces of research explored how innovative Higher Education (HE) provisions in the UK are approaching graduate employability. While the aim of our symposium was to broaden the discussion around work-readiness, clear themes emerged. We found that what it means to be 'work-ready' is constantly evolving. In this context, employability combines knowledge with practical skills. We found these are best developed with continuous application of theory in practice through project-based, work-integrated learning, an industry-engaged HE curriculum, and by creating a workplace-like atmosphere. 
Kat Emms, Education and Policy Researcher at Edge, opened with some research on Cardiff University's National Software Academy. Founded in 2015, the NSA was created to tackle the skills shortage in Newport, a deprived area of Wales. 
The NSA model has greatly improved graduate employability. Local employer networking, relevant work placements, guest lectures and industrial tutors are all key to their model. Every semester, students apply what they have learned in authentic client-facing projects which allow them to develop the team-working and professional communication skills they need for the workplace.   
Crucially, NSA classroom sessions involve a continuous cycle of theory and practice, including thorough project-based learning in a workplace-like environment. Daily briefings, communal work areas and integration of workplace technologies mean the NSA is more like an office than a university department.  
What's more, the relationship between staff, students and industry partners is uniquely non-hierarchical. Staff engage with industry stakeholders on and off campus. Meanwhile, students are treated as professionals. To help shape the curriculum, they're actively encouraged to contribute what they've learned during their work placements. 
The symposium also heard from Professor Daryll Bravenboer, Director of Apprenticeships at Middlesex University, who shared research exploring sustainable degree apprenticeships in the nursing, digital and engineering sectors. The study's findings – which tackle systemic barriers to sustainable apprenticeship delivery – have broad applications for all types of degree-level apprenticeships.  
Unsurprisingly, the study found that the most effective apprenticeship providers closely partnered industry and academic staff. However, it also revealed the importance of bringing in expertise of work-integrated learning delivery. This not only ensured that employer's needs were met, but that apprentices gained the relevant industry know-how and other broader, employability skills. HE institutions, meanwhile, played an important role in integrating academic study. 
A key recommendation from the research was to reposition how degree apprenticeships are perceived. They should be sold as distinctive, high-quality offerings – not 'lesser' alternatives to traditional degrees. Young people also need support in identifying career paths and links between lower and higher-level apprenticeships which is especially important for boosting productivity and social mobility in underrepresented groups.
 
Finally, Dr Andrea Laczik, Edge's Head of Research, shared the findings of an evaluation of the Edge Hotel School (EHS), a fully operational four-star hotel which allows students to train in events and hospitality management, while learning strategic, managerial and professional skills. The research's aim was to model how HE institutions might better engage industry in the delivery of vocational training. 
As pressure grows on, HE to support transitions into sustainable employment, what can we learn from these innovative models? Firstly, that effective partnership between employers, students and providers is vital for shaping the necessary prerequisite knowledge and supporting employability skills that graduates need to thrive. Secondly, that applied learning in 'safe' workplace-style environments is effective in improving graduates work-readiness. In today's uncertain world, students and employers are demanding new approaches. If the research has taught us anything, it's that these kinds of models are not a matter of 'if' – they're a matter of 'when'. 
The Edge Foundation is an independent education charity dedicated to transforming the way young people develop the skills and attitudes they need to succeed in the 21st century. Find out more here 
Find more information on Cardiff University Careers and Employability, here