Shaping Spaces: a new ASPECT for CAUKIN
2 December 2020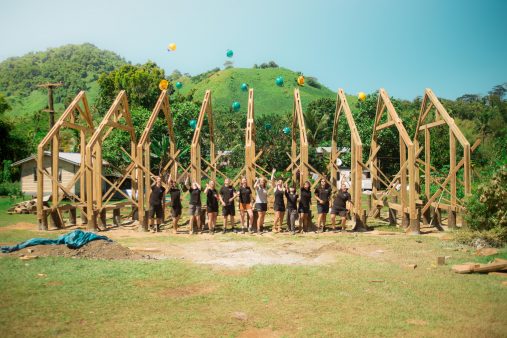 Cardiff University graduate start-up CAUKIN Studio has been creating impact through architecture for five years. Working with communities, NGOs, students, and professionals, CAUKIN Studio creates access to better designed and built spaces. Here, co-founder and Cardiff graduate Harry Thorpe (M.Arch) celebrates CAUKIN Studio's latest success – acceptance onto the ASPECT Student Accelerator Programme.
"CAUKIN Studio is founded on the premise that everybody should have access to better designed and built spaces. We are dedicated to creating skill exchange opportunities through design and construction, enabling communities to have the opportunity and tools to shape the spaces they inhabit.
By working with communities, NGOs, students, and professionals, we deliver built projects from conception through to handover, with every stakeholder contributing and benefitting equally. Living, working, and building with the communities that we partner with, helps establish trust and facilitates an exchange of knowledge – this creates innovative design and build solutions.
We hope to demonstrate that an organisation can balance profit with purpose, considering our impact in equal measure to our financial goals. As a company, we utilise business as a force for good, in an industry where such values are often missing, working our ethos into private work, public commissions and our international development projects.
Since 2015, we have completed 27 design and construction projects worldwide, delivering over 120,000 hours of onsite education for 470 community members and international participants. Our skill exchange programmes have brought people together from over 52 different countries and from over 40 universities worldwide. Thanks to our international development projects, over 6,000 people across 12 countries will have access to better designed and built spaces by the end of 2021.
However, due to the coronavirus pandemic, the projects we deliver were halted abruptly. All international development builds scheduled for 2020 across the South Pacific, Asia, Africa, and South America were postponed. This meant local communities and international participants were not able to gain the experience and value of the build process. As a young start-up company, we were initially worried by the effect such a huge event would have on us and our business model, but thanks to being small and agile, we were able to reflect, critique and adapt.
Since March, we've been able to get to grips with spreading the CAUKIN message as widely as possible. Accessibility is our top priority. Running a virtual workshop pilot from July to September allowed us to test hypotheses and simulate a new way of reaching more people across the world. Through a live research project and expert external speakers, we could deliver valuable sessions about subjects and areas of the industry that are otherwise away from the mainstream.
It was also during this period of internal reflection, whilst seeking advice and guidance, that we came across the Aspect Accelerator course. It seemed to be a great opportunity to learn about areas of our business and the structures that we have in place, through a reasonably intense and challenging course. We felt that through engaging with the expert speakers and consistent 1-to-1 check-ins with the Aspect team, we could push the company forward, whilst being held accountable, and at the end of the process see some tangible results.
Our original expectations have been hugely surpassed! Soundboarding ideas every week with people who understand the processes and pains of being a start-up has given us huge confidence. In addition, some really meaningful connections have come out of the ASPECT course: several other founders are interested in collaborating on projects and working together in future!
The course will add a lens of critical evaluation that was otherwise lacking. Whilst we have learnt a huge amount about running and maintaining different aspects of a business, there is only so far that can take you. By being evaluated, pushed by industry experts and having input from those with decades of experience, we believe this side of the business will not only grow exponentially, but will positively drive the other 90% of our operations."
Harry Thorpe, Co-Founder, CAUKIN Studio