Campus inducts 1,000 workers
27 February 2020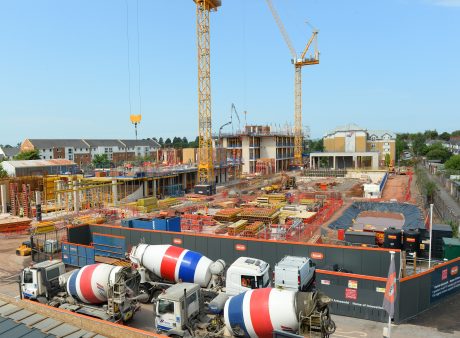 More than 1,000 workers have been recruited to work on Cardiff University's flagship 'Home of Innovation.'
The new milestone has been reached in partnership with Bouygues UK, the leading construction company behind Cardiff Innovation Campus, since work began on the state-of-the-art site in summer 2018.
Some 60% of staff brought in to work on the former disused railway yard at Maindy Road in the city are from South-East Wales – and 70% come from the wider Wales area, bringing wider community benefits to the heart of the partnership whilst supporting local industry and construction contractors.
This had been a core requirement for Nick Toulson, Community Engagement officer at Bouygues UK, who set out to 'ensure that this project contributes to increasing local skills, development and employment in Wales' when the project began.
The figures are expected to continue to rise significantly as both landmark buildings near completion.
Justin Moore, Bouygues UK Operations Director for Wales, said: "Working with Cardiff University on this prestigious project has enabled us to offer a range of opportunities to promote careers in professions relating to the construction sector, including those that are new and emerging as the industry changes and adapts to the twenty-first century.
"It is great to see that in partnership we have been able to raise awareness of the range of careers on offer and enabled participation in the sector to groups which have traditionally been under-represented. Through our early engagement with Welsh Government and other agencies, I am also really pleased that we have provided local businesses the opportunity to be part of this innovative project which we hope will contribute to improving skills and employment in Cardiff and South Wales for the future."
(Images courtesy Hawkins\Brown and Wigwam Visualisation)
Cardiff Innovation Campus will deliver sbarc | spark – a building with its own innovation centre that will bring together social scientists working on tomorrow's grand challenges – which will be topped out in April this year, and the Translation Research Facility, home to Cardiff Catalysis Institute and the Institute for Compound Semiconductors, which reached its highest point last December.
The TRF will "allow Cardiff to build on its outstanding track record for developing fundamental academic research that fulfils the needs of industry" (Professor Duncan Wass, Director, Cardiff Catalysis Institute).
Sbarc | spark will provide communal spaces to promote face to face interaction between researchers, practitioners, funders, policy-makers and entrepreneurs.
Professor Karen Holford, Deputy Vice-Chancellor, Cardiff University, said: "Cardiff Innovation Campus is a magnet for economic growth. These welcome figures from Bouygues UK show the economic benefits of the construction itself, attracting sub-contractors and construction workers from across South Wales and beyond. When the Campus opens in 2021, it will generate research income from public and private sector funders in the UK and internationally."
Cardiff Innovation Campus brings experts together to create partnerships that turn research excellence into real-world solutions.
For more information visit https://www.cardiff.ac.uk/innovation/campus-investment
Contacts
sbarc | spark: Sally O'Connor OCONNORS@cardiff.ac.uk  
Translational Research Facility: Manjit Bansal BansalM@cardiff.ac.uk
General enquiries: Heath Jeffries, Innovation Communications jeffrieshv1@cardiff.ac.uk