Things to consider before applying to study abroad
5 August 2019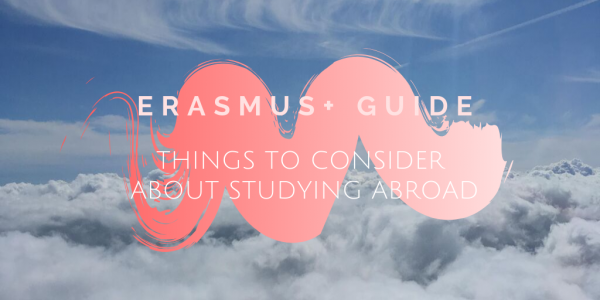 Travelling is to live, or so they say, and thanks to international and European schemes, university students across the world are fortunate enough to have the opportunity to travel to a variety of countries as part of their degree.
Making the decision to study abroad is one that only you can make, it isn't about where your best friend is going or where your lecturer advises you to go, I found that it ultimately comes down to these five factors; location, language, money, course variety and dealing with distance.
Destination
Knowing what locations are available to individual courses is the initial attraction of study abroad schemes. My degree offered placements in Europe, Australia, Canada and America.
Instead of manifesting a grand story of why I chose University of Oslo (UiO), Norway, I'll be honest – I chose Norway because I was interested both in the place and the the courses UiO has to offer. Being interested in the place as not just part of the degree is essential. I was more interested in the two European destinations since the history of philosophical thought is pioneered by European thinkers and Norway appealed more.
Another thing to consider is how many places are offered at the institution. Both of the European universities only had one position for one student from my school which meant I had to decide whether I wanted to apply with the knowledge that I may not get the place. The mini meltdown I had when a correspondent confused Oslo for Ottawa and said it was no longer part of the scheme determined that I clearly was ready to fight for the place.
Courses
So now that a destination has been decided, let's look at the courses. Travelling to and living in another country for a period of time is a big commitment if the courses are tedious and difficult. The modules UiO offers aided me in deciding to apply for their university as the descriptions detailed a very different style of teaching in comparison to my university.
Studying abroad is for the experience but the courses still have to be passed so find a place that ensures that is possible and find the right institution with stimulating modules so that the whole experience is positive!
Money
While it may have been easier to live within the fantasy of exploration, the reality was that I could not afford to disappear to the opposite end of the world. The first step to making the decision to apply for a study abroad scheme personally was dependent on if it was financially doable.
There are several questions to ask yourself about finance:

• Do you need a visa?
• How much will travel cost?
• Will you have to pay tuition?
• How much is the average cost for accommodation?
• How much is food and drink?
• Does the university cover you for insurance?
• Will Student Finance help with costs?
I'm fortunate enough to receive a good student loan but due to the ensuing issues pursued by Brexit, the Erasmus+ Grant that aids many students through their time abroad is under jeopardy. At the time, Cardiff University had not come to the decision to afford financial aid should the grant collapse in the wake of Brexit so I had to put in serious consideration as to whether I could budget enough. Since then, Cardiff University have confirmed they will financially aid students should the Eramus+ Grant cease.
Language
Most students pick countries outside of Europe to avoid the language barrier. If the country doesn't speak English as their first language, it is wise to consider whether this is an appropriate option. Most universities offer courses in the native language and there are easy-to-use apps such as DuoLingo that is a quick way to learn the basic terms and phrases to initially progress abroad.

Since I could not afford to go to countries where English is the primary language, I had to research how prevalent the English language was in Norway. Luckily for me, at least ninety-percent of Norwegians have English as a second language since it is part of their education.
Distance and Duration
Depending on the degree, either a full-year or a semester abroad is offered. Such an opportunity usually arises in third year and making the decision to do so means leaving all of the university friendships and relationships that have been founded and nurtured for the prior two years.
As a humanities student, I can only study abroad for a semester in my final year. This was, perhaps, the most difficult factor in deciding to apply. I have a very close relationship with my family, partner and very close friendships with people at university. I also had to worry about finding accommodation when I return next January.
There are so many things to consider when it comes to distance and duration and making the decision that this challenge is a storm that can be weathered is tough but important.
Moving to a new country where you have to build new friendships whilst the important ones are far away isn't quite the same as finishing university and entering the working world. Yes, it is a scary prospect but it is important to remember that most students you meet abroad will be in a similar situation. There will be other students in your university that will be going to the same destination that you can connect with too! You will be able to Skype your family, your friends, your partner and often, schedule visits too.
What are you looking for?
We're looking for enthusiastic students who are currently abroad, or are soon going abroad, to share their experiences and write for our pages!
If you're interested, get in touch by emailing us at go@cardiff.ac.uk