The process of applying for Erasmus+ with ENCAP
5 August 2019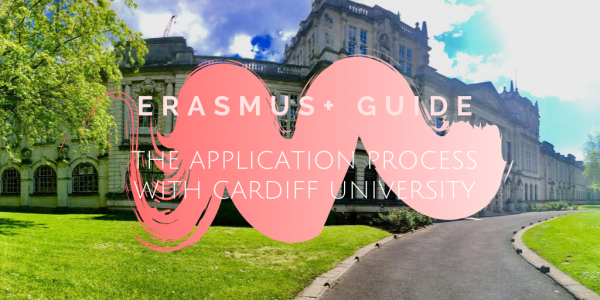 The Erasmus+ Application is a lengthy process. First, you will initially apply to your university; upon getting a nomination, you will need to apply to the host university, and then begin the process of finding accommodation and filling out a multitude of forms.
So let's begin with the basics; the first application, being nominated and applying to the host university.
Getting Permission
Before I could apply, I had to request permission and a meeting with the Head of Department. Getting permission to apply is similar to being interviewed wherein it is the Head of the Department's decision to determine if you are academically suitable to take part in the scheme. Convincing the Head of Department of your ability to bring the best to the scheme will help when they negotiate nominations with the Erasmus+ team.

I was in a unique situation wherein the Head of Philosophy happened to be my personal tutor. In the meeting, we caught up on how things were going academically and personally before I explained every reason why I should be the person selected for the Oslo placement. Since there was only one place for Norway and it was open to the other subjects in my academic school, I was advised to aim for high 2:1s in my Autumn semester modules as it would ultimately reduce down to which applicant has the better grades.

The Application
Your application will be separated into three sections:
General Information
The first section will ask general information about your home institution. I had to fill in my general student details, confirmation that my application had been approved by the Head of Department, and information on my disability (A Placement Proforma was put in place so that I would not be disadvantaged at UiO).
Study Abroad Choices
The second section concerns everything about the universities you are interested in. Erasmus+ students who will be going for a semester will require to take modules which total 30 ECTS (European Credit Transfer and Accumulation System).
I had to fill in six preferable modules for Norway and my second choice of Belgium. It is important to research courses at the host universities to ensure that they are interesting personally!
Personal Statement
Like your application to university, the personal statement to study abroad is the selling point of the application. The application suggests a 'brief explanation of why you want to take part in the study abroad scheme'. I separated my personal statement into two sections:
Demonstrating Academic Enthusiasm for the Degree
Showing that you are academically engaged is essential to be considered and trusted to perform well when you are abroad. I began my personal statement with two paragraphs on why I wanted to broaden my philosophical scope by taking part in the study abroad scheme. The location was key to this since I am interested primarily in continental European philosophy. This progressed to interest in how other faculties differ in teaching and noting academic accolades and lengths I've previously gone to for my interest in the degree.

• Interest in the subject
• Specific topic of interest
• Relevant academic achievements
Demonstrating in-depth Research into the Host Universities
Discussing the universities you have applied for is optional as you can simply talk about being interested in the study abroad scheme in general. Since I had researched a lot and I also wanted to give myself the best chance possible, I dedicated a further two paragraphs to the Norwegian and Belgium university:
• Culture and history
• Positive attributes of the university
• Academic and personal benefits
I made it clear that Norway was my first choice but that I was equally happy if I were to get the Belgium place. Entwining knowledge of the culture as well as the courses provides by the institution is an excellent way to demonstrate that you have done your research, concluding it with the benefits you could receive from the scheme.
Conclude the personal statement with a concise paragraph repeating why you are the best person for the place and you are all set!

Getting Accepted: What's Next
It will usually take a couple months before you will receive an answer. It is a very a nerve-wracking day when people begin getting notifications of nomination. My housemate got her nomination before mine and I remember feeling nauseous until I finally got an email confirming that all the effort had paid off and I would be the student going to UiO, Norway.
After being accepted, I now had to apply to UiO myself. This is the part that surprised me and many others, being nominated by the university is the first step – the host university can still reject the application.

The application process at UiO was simple thankfully, with the only requirements being to fill out general details and upload certificates of my grades from first year. It took two months before the deadline for applications at UiO closed so it wasn't until early May that I received the admission acceptance.
Having received my acceptance from both universities, I now have four forms to fill out before I leave:
• Declaration Form
• Student Grant Agreement
• Learning Agreement
• OSL Assessment (assessment in knowledge of the native language)
Due to technical difficulties, these took longer to complete and so, I looking into accommodation in Norway whilst I waited.

What are you looking for?
We're looking for enthusiastic students who are currently abroad, or are soon going abroad, to share their experiences and write for our pages!
If you're interested, get in touch by emailing us at go@cardiff.ac.uk