Diwedd Semester 1
23 February 2015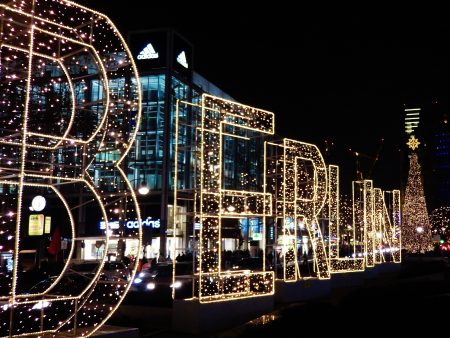 Unwaith eto mae amser wedi hedfan heb i mi sylweddoli! Erbyn hyn dwi adra yn mwynhau 6 wythnos o wiliau cyn dychwelyd i Berlin am yr 2il Semester ar ddechrau mis Ebrill. Ers y blog diwethaf dwi wedi cael lot o brofiadau gwych a dwi'n teimlo fy mod i'n dechrau dod i adnabod Berlin a'r bobl yn well.
Rhagfyr/Dezember
Dechreuodd mis Rhagfyr efo trip i Göttingen i weld Alina – ffrind Almaeneg fues i'n gweithio efo dros yr haf. Mae Göttingen yn dref prifysgol bychain yng nghanol yr Almaen ac yn gartref i Gänseliesel, y ferch sydd wedi cael ei chusanu fwyaf yn y byd! Pan mae myfyrwyr yn graddio gyda doethuriaeth o'r brifysgol mae'n draddodiad iddyn nhw'i chusanu hi. Nid y tref mwyaf cyffroes yn y byd, ond roedd hi'n braf cael saib o fwrlwm Berlin a gweld tref llai wedi'w addurno ar gyfer y Nadolig.
Yn ôl yn Berlin fues i'n ddigon lwcus i gael dwy ymwelydd, Tamaki a Siwan, oedd yn gwmni gwych ar gyfer mwynhau y marchnadoedd Nadolig. Fel allwch chi ddychmygu mae gan prifddinas yr Almaen nifer fawr o farchnadoedd Nadolig gwahanol oedd yn cwmpasu 230 km o'r dref blwyddyn yma. Un o fy hoff farchnadoedd oedd yr un yn Gendarmenmarkt. Ces i hefyd weld fy opera cyntaf yn Berlin Il barbiere di Siviglia (Eidaleg) gan y Staatsoper (cwmni opera y dref) a wnes i fwynhau'r profiad yn fawr! Roedd cyfnod y Nadolig yn Berlin yn hollol anhygoel ond roedd hi'n braf mynd adref am bythefnos ar ol treulio dros 12 wythnos yn yr Almaen.
Y flwyddyn newydd
I fod yn onest doeddwn i ddim yn edrych ymlaen at fynd yn ôl i'r Almaen wedi'r Nadolig. Nid oherwydd nad ydwi'n mwynhau y profiad, ond oherwydd bod llwyth o waith yn disgwyl amdana i yn Berlin. Er hynny roeddwn i wedi fy synnu pa mor gyfforddus oeddwn i'n teimlo yn ôl yn Berlin a pa mor gyfarwydd oedd popeth yn teimlo, hyd yn oed arogl yr U-Bahn! Ac hefyd pa mor hawdd oedd deallt pobl yn siarad Almaeneg o fy nghwmpas. Roeddwn i'n teimlo'n falch iawn o pa mor bell yr oeddwn i wedi dod ers mis Medi ac wedi synnu pa mor hawdd oedd bod yn ôl.
Wedi cwblhau traethawd 4,000 o eiriau yn Almaeneg roedd hi'n amser dathlu ar ddiwedd Ionawr. Roedd penblwyddi dwy o'r genod eraill o Gaerdydd sydd yn Berlin hefyd newydd fod, sef Sorcha a Harriet felly aethon ni am frewcwast i'r Reichstag (Senedd yr Almaen) ac yna allan i Tresor yn y nos, un o glybiau mwyaf adnabyddus Berlin. Nes i ddim dod adref tan 7 yn y bore!
Yna dim ond bythefnos oedd gen i ar ôl o fy nhymor cyntaf, a wnes i dreulio fy amser yn ffarwelio gyda fy ffrindiau, yn enwedig gan bod rhai ohynyt yn mynd adref, neu ymlaen i leoliad arall yn hytrach nac aros yn Berlin am y flwyddyn. Hefyd wnes i fynd i ambell amgueddfa doeddwn i heb ymweld o'r blaen er enghraifft amgueddfa hanes yr Almaen a fues i'n ddigon lwcus i gael tocyn i weld The Beat Beneath My Feet yn Berlinale sef gŵyl ffilmiau rhyngwladol Berlin.
Hanner ffordd
Er fy mod i'n falch o be ydwi wedi cyflawni hyd yn hyn roedd gadael Berlin yn deimlad reit rhyfedd oherwydd dwi wedi bod yn edrych ymlaen at fy mlwyddyn dramor ers gymaint o amser mae hi'n anodd credu fy mod i hanner ffordd yn barod. Dwi wirioneddol yn mwynhau y profiad hyd yn hyn, ond wedi sylwi efallai fy mod wedi bod yn afrealistig yn meddwl y buasai genai lwyth o ffrindiau Almaeneg! Dwi wedi cyfarfod lot o bobl newydd yn Berlin ac wedi gwneud ffrindiau o ar draws y byd ac mae fy Almaeneg i wedi gwella lot, ond dydw i ddim yn agos at fod yn rhugl eto. Ar y funud dwi'n edrych ymlaen at fynd i weld fy ffrindiau yn Gaerdydd, ymlacio adref a mynd i Awstria a de yr Almaen ar ddiwedd mis Mawrth.
What are you looking for?
We're looking for enthusiastic students who are currently abroad, or are soon going abroad, to share their experiences and write for our pages!
If you're interested, get in touch by emailing us at go@cardiff.ac.uk