First semester abroad in Chambéry
31 January 2015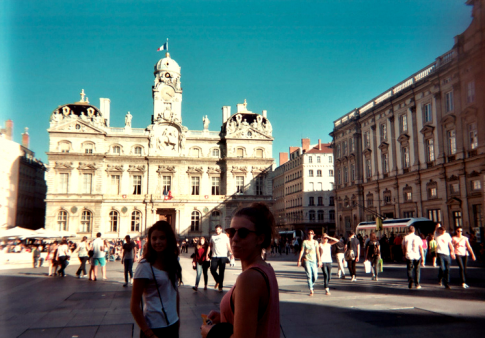 I chose languages as my joint honours degree, partly because I love the culture and history of foreign countries and learning the language is the best way of immersing yourself. However, like any normal person, it's very daunting knowing your going away for the whole year, but, if you never get out of your comfort zone, you'll ever experience some of the best things in life.
I was apprehensive moving to Chambery, but since moving here and settling in, I haven't looked back. I've even thought how odd it will be to go back to Cardiff. The first few weeks were difficult, I began trying out lectures in French, some of which I decided very quickly that I definitely was not going to pursue! Getting anything done seems to take a fair amount of time, as the French love having long lunch breaks and absolutely love paper work! Persistence is key!
The Cardiff Erasmus programme don't expect you to slave away in the library, which I think is the best thing about the whole exchange, I formed my timetable so that I have 3 days in university a week, I did this because France is so close to so many amazing countries and within France there is so much I wanted to see and do, especially as Chambery is so close to the Alps!
Chambery it self, is a small town, if your looking for a lot of excitement you probably won't find it here, but as I am going to Milan for my second term, it made sense to go somewhere smaller and be close to the ski resorts!
To go skiing from Chambery, you can take the train to either Moutiers or Bourg Saint Maurice and then take a bus to the surrounding resorts, which include; Tignes, Val D'Isere, Les Arcs, Alp D'Huez, Meribel, Courcheval, Val Thorens, La Plagne etc.
Travelling around France is really easy and having luckily been able to find a flat with French students (through appartager.fr), they told me about BlaBla Car (covoiturage.fr). So on the weekends, I have visited Geneva, Montpellier, Lyon, Paris, Tignes and Val Thorens. Covoiturage is a really good way of getting cheap transport (it's about half the price of the train) and you have to practise your French!! If you are staying in France for the whole year, it's definitely worth getting a young persons rail card (Carte Jeune).
Un peu du vin, du pain, du boursin; the perfect ingredients for a chilled soirée, of which, we have had many. Savoie is famous for it's 'nourriture savoyarde', such as raclette, cheese fondue and tartiflette so it's a must try if you ever get the chance to be in the Savoie!
What are you looking for?
We're looking for enthusiastic students who are currently abroad, or are soon going abroad, to share their experiences and write for our pages!
If you're interested, get in touch by emailing us at go@cardiff.ac.uk