Chemistry in China- the Adventure begins
8 November 2017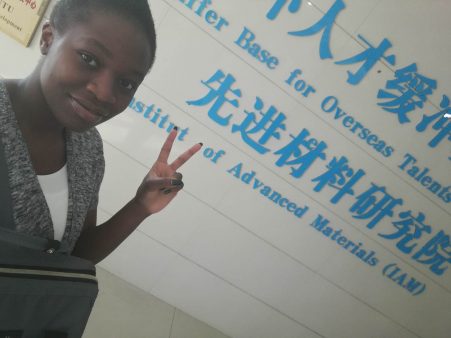 Over 10 weeks ago, my life changed completely. For the better. I was moving to China for a year! I was very apprehensive about it and even considered dropping out last minute. Somehow, I managed to pull through the apprehension, apply for a visa and travel to China all in a space of 4 days.
Let me introduce myself. My name is Nancy (Nancyanne) and I am a 3rd year chemistry student on a year abroad. I excited to share my travel adventures with you all. I am the same Nancyanne from Cardiff insiders. Feel free to check my other blogs here. As this is an introductory blog, I will answer 5 common questions people ask and I'll share more as the months go by. Enjoy!
Why China?
Originally, I planned on going on a year in industry. However, an excellent member of staff advised me to go on a year abroad instead because I love travelling. There were loads of places to go to but, China was unique. I had been studying mandarin with languages for all since year 1 so I thought, "China is ideal". It is not as expensive as Hong Kong or Singapore. It is not cold like Canada and America is just America. I also love south east Asia so, China was just perfect. Well still is the perfect place to be.
What is studying Chemistry in China like?
I think studying in china is like a pendulum. You go from one extreme to another. 98% of the time I love China, I am on a dose of euphoria. It's beautiful, there is lots to eat, the people are nice and travelling is so cheap. However, that 2% lack of euphoria can be overwhelming. Those are the days I just want to go back home and I get tired of how good it is. But I love it! With regards to chemistry, It's a bit challenging. I have a flexible schedule so, I have to be disciplined to get any work done. Having said that, I really love how hardworking all the students are. I am based at a postgraduate campus so all the students are quite driven and inspirational.
Would I consider living here in the future?
I would love to work here for a couple of months every year then go somewhere else then come back and then go back and so on.
How did I come to China?
By plane. Jokes. Like I said before, my school has a year abroad programme and I decided China was/ is the place to be. People like me are called exchange students. Similar to Erasmus students but that's just in Europe. In addition, when I applied to come here, the university, Nanjing University of technology (南京工业大学) told me I could apply for a scholarship as well. Thankfully I was approved (the scholarship is about £500/month).
What next?
I hope I will do well this year and finish my degree then, come back here for postgraduate studies or for business.
Hope this helped you get to know me a little bit. In my next couple of blogs, I will give more details on how to apply for this programme & scholarships using chemistry as an example. Feel free to comment below if you have any questions.
---
Comments
What are you looking for?
We're looking for enthusiastic students who are currently abroad, or are soon going abroad, to share their experiences and write for our pages!
If you're interested, get in touch by emailing us at go@cardiff.ac.uk