Nantes month three: birthday celebrations are a go!
27 November 2017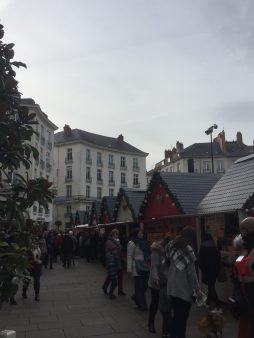 I cannot believe how quickly time flies… I only have two more weeks of lectures and then that will be the end of semester one of my year abroad. These past few weeks have been manic (hence my lack of blogging) but I'll try to summarise some of the things I've gotten up to over the past month…
IT'S MY BIRTHDAY!!!
I love this time of year because not only does it mean Christmas is nearly here, but it also means I get to celebrate my birthday! I had a fantastic weekend: two of my friends from Cardiff came to visit and four of us managed to squeeze into the apartment of another friend. On the Friday, we went for a meal in this Indian restaurant close to town, called Inde et Vous. It was very much blink and you'll miss it, being quite a small place but nonetheless the food was tasty, the ambiance was great and the price was reasonable so I would recommend! Afterwards we showed my friends la Maison Café, a cute, retro bar/café which resembles a 70s house (see photo). Saturday was a really busy day which finished up with us in Havana Café, a Spanish bar with an area to dance downstairs, so we salsa-danced the night away… it was a lot of fun! This was slightly unplanned, given that I had initially decided that we were going to embarrass ourselves (correction: I was going to embarrass myself) at a karaoke bar, however when we arrived it turned out the place was shut. Note to self: do not trust google or naively assume that bars won't close without any apparent reason around here. Fortunately, Havana was just up the road so we were able to make a quick alteration to our plans. Despite the hiccup, I loved my birthday and I loved celebrating it in Nantes!
Visite de Cardiff
At the beginning of this month we had a lovely visit from Nadia, our year abroad coordinator. We (as in the Cardiff language students) all got together to go for a meal with her and it was a truly wonderful evening because we haven't had many opportunities to catch up with each other so that night, we shared our stories about some of the stresses we'd all experienced as well as some of the fantastic things we'd all gotten up to. Of course, Nadia chose the perfect time to come since, by this point, we were all pretty stress-free and able to give a more balanced view of what life was like in Nantes.
It's beginning to feel a lot like Christmas…
For me, being a November baby, I tend not to feel Christmassy until after my birthday has completely passed and, in fact, once it's hit December. But this year, I've been feeling in the Christmassy mood for the past week and this was added to yesterday when I went to my first Christmas market of the year. Full of stalls selling jewellery, bags, ornaments, sugary snacks, mulled wine and snail slime beauty products (I was intrigued to say the least), the Nantes Christmas market has something for everyone so if you're coming to Nantes anytime soon (or indeed for your year abroad next year), definitely make time to visit it. I believe it will convert any Scrooge…
On a weather note
No sooner did I say the weather wasn't so bad here (see last blog), temperatures suddenly plummeted and the big, woolly jumpers came out. Yes, Nantes does get cold. And it especially gets cold at night.
French
November has been a really good month for my year abroad (yes, I know I'm going to be a little biased) but aside from all the celebrations, it really has felt like everything is fitting into place and I know so far I've neglected to discuss in great detail the whole point of why I'm here: which is to improve French.
Well, this month I really feel it has taken a turn for the better. I did part way through October worry that I wasn't making enough progress but I realised what was holding me back from truly making the most of this opportunity was confidence. A couple of weeks ago I had to make a phone call in French and prior to it I almost talked myself out of making the call. Afterwards, however, I was really pleased that I had firstly been able to understand the entire conversation but also pleasantly surprised that when I really forced myself into it, I could speak French. It's a journey and I have still a long way to go but I definitely feel this last couple of months has changed one thing: my confidence.
To finish off with (and why there is a silver lining if the karaoke bar is closed) …
"Our happiest moments as tourists always seem to come when we stumble upon one thing while in pursuit of something else." — Lawrence Block
What are you looking for?
We're looking for enthusiastic students who are currently abroad, or are soon going abroad, to share their experiences and write for our pages!
If you're interested, get in touch by emailing us at go@cardiff.ac.uk